Chipotle & Garlic Shrimp Tacos with Mango Salsa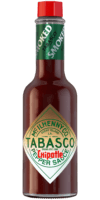 Chipotle Sauce
Servings:
3 servings (2 tacos per serving)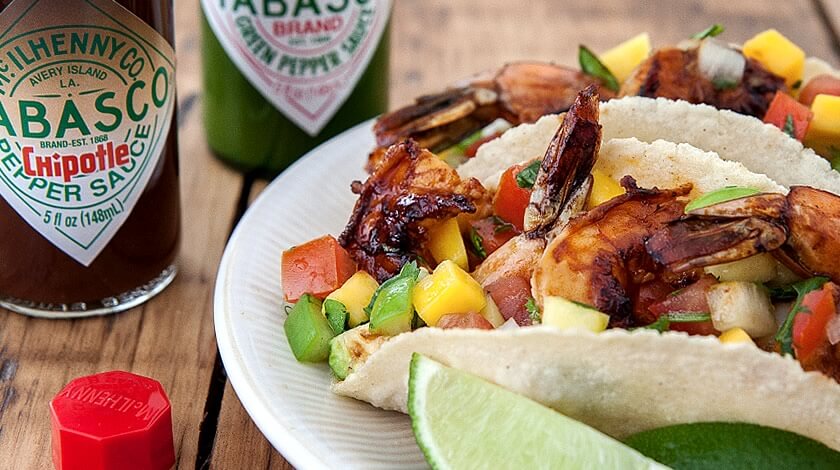 Ingredients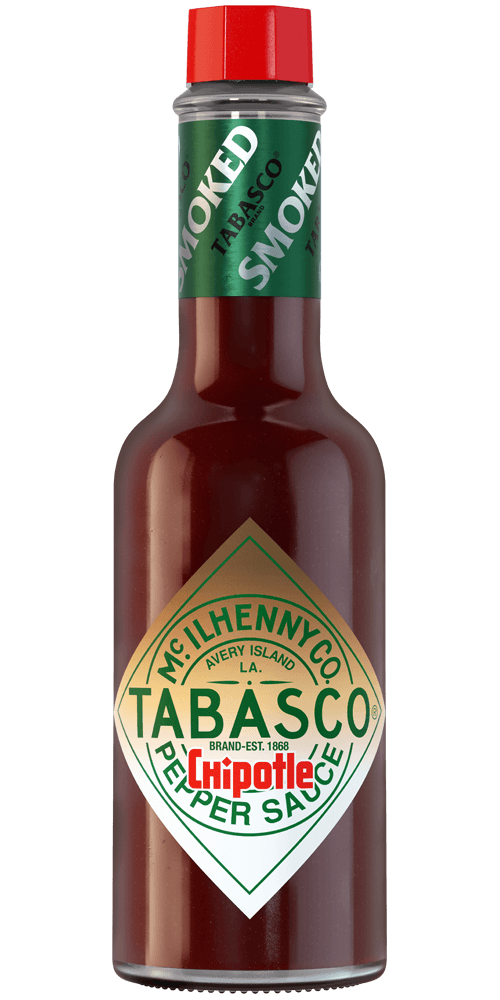 1/4 cup
TABASCO® brand Chipotle Pepper Sauce
1/2 cup vegetable or canola oil
6 garlic cloves, peeled
2/3 cup ketchup
2/3 cup agave syrup
1/3 cup lime juice
1/3 cup soy sauce, low sodium
18 large shrimp (16/20 size), peeled and deveined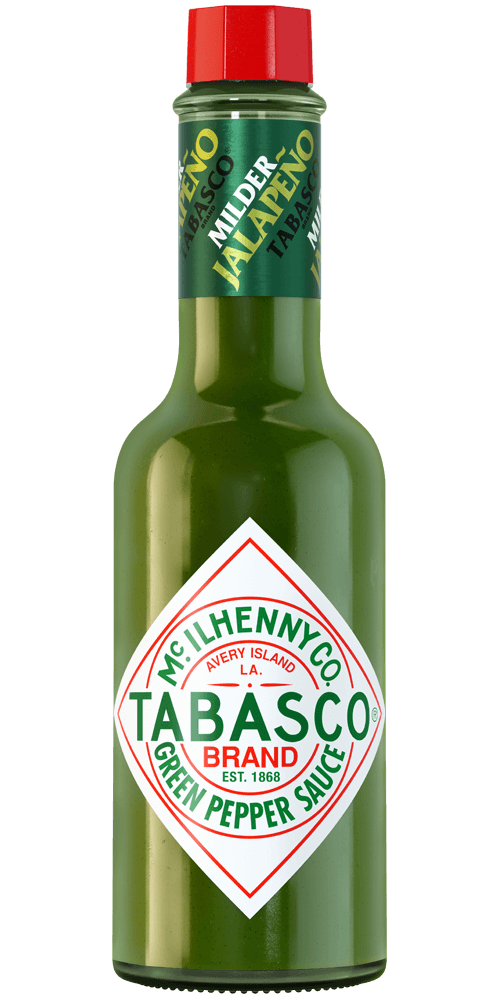 4 tablespoons
TABASCO® brand Green Jalapeño Pepper Sauce
2 large fresh mangoes, ripe and sweet
4 tomatillos, medium
1/2 white onion, medium
4 plum tomatoes, medium
1/2 cup cilantro, lightly packed
3/4 cup lime juice
6 corn tortillas
1 ripe Hass avocado, sliced
Kosher salt
Preparation
Marinade
Heat vegetable oil in a saucepan over low heat and fry garlic cloves for 20 minutes until soft and cooked all the way. Do not brown the garlic. Set aside to cool.
Remove garlic from oil and place in food processor along with 1/2 of the garlic oil. Reserve the remaining garlic oil to grill shrimp and warm tortillas.
Add TABASCO® Chipotle Sauce, ketchup, agave syrup, lime juice and soy sauce to the food processor and mix until smooth.
Marinate shrimp in the mixture 1 to 2 hours before grilling. For ease of handling you may skewer shrimp before grilling. The marinade can be prepared 24 hours ahead of time.
Salsa
Dice mango, tomatillos, white onion, tomatoes and cilantro and toss in a bowl with lime juice and TABASCO® Green Sauce. Add salt to taste. Refrigerate for at least 2 to 3 hours; bring to room temperature before serving.
Shrimp
Heat grill with remaining garlic oil and grill marinated shrimp for 2 to 3 minutes on each side, until marinade becomes a brown glaze. Remove from grill.
Warm the tortillas until soft and pliable in a cast-iron pan; brush with a touch of garlic oil for extra flavor.
Serve
To serve, place a slice of avocado on each tortilla, mash with a fork and season with salt. Place 3 pieces of shrimp in each tortilla. Top with a generous serving of the mango salsa.
You will need:
Chipotle Sauce
A smoky, flavorful sauce. Pairs well with any BBQ dish.