Chipotle Grilled Shrimp with Bacon
Created by Chef Ray Garcia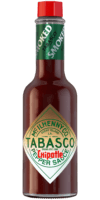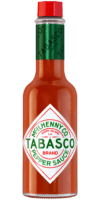 Chipotle Sauce, Original Red Sauce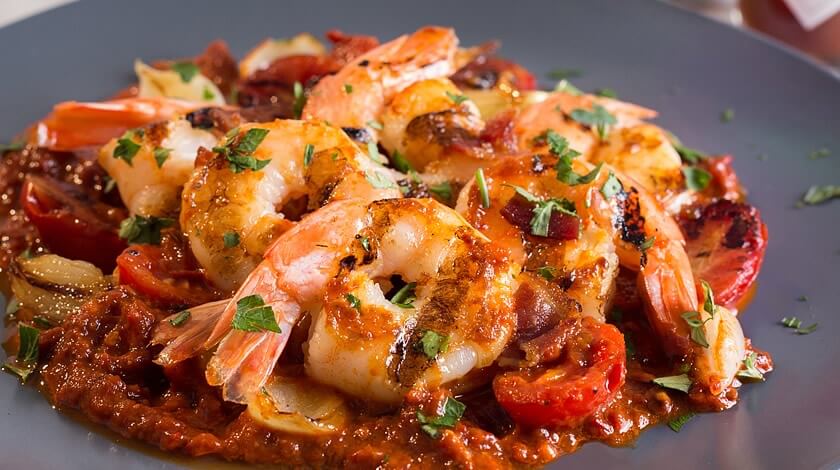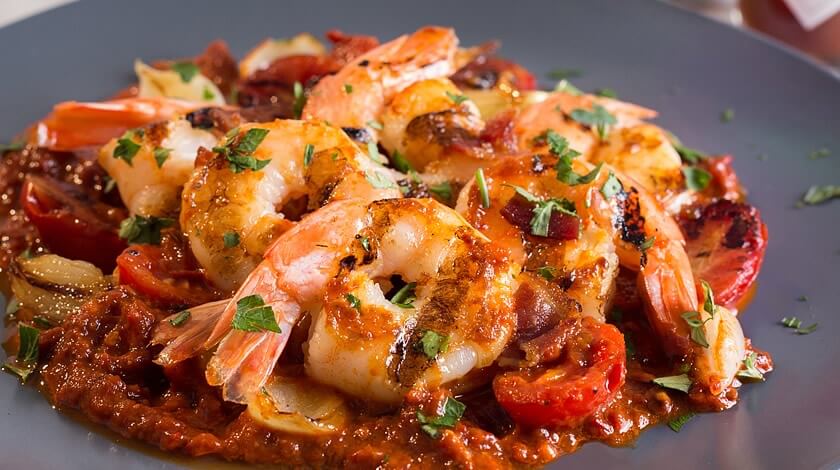 Ingredients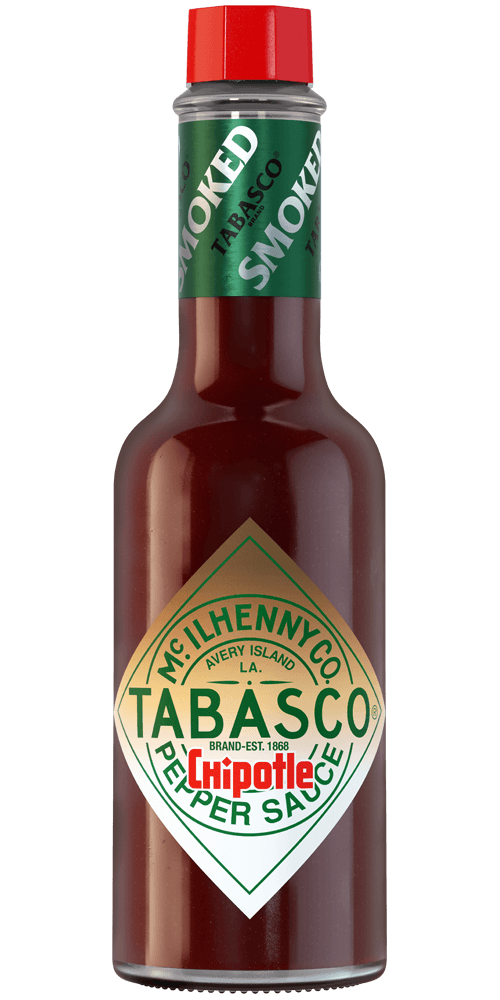 5 tablespoons
TABASCO® brand Chipotle Pepper Sauce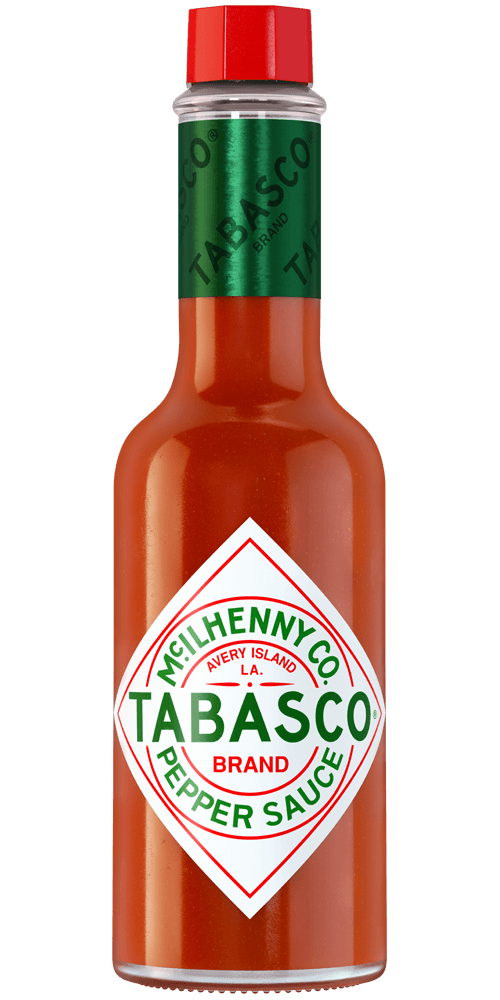 1 tablespoon
TABASCO® brand Original Red Sauce
1 1/4 cup bacon, cut into 1-­inch pieces
1 tablespoon canola oil (optional)
1 1/2 cups pearl onions, halved
4 chipotle peppers in adobo
1 Roma tomato
8 garlic cloves
1 serrano chile
1/4 cup water
2 cups cherry tomatoes, halved
12 large shrimp, peeled and deveined
2 tablespoons olive oil
Kosher salt, to taste
3 tablespoons Italian parsley, chopped, for garnish
Preparation
Place cut bacon in a medium-sized pot and add enough water to completely cover. Heat over low heat until the water has evaporated, approximately 20 minutes. Remove the bacon and set aside. The bacon should have given off enough fat to start caramelizing. If there is not enough fat in the pan, add 1 tablespoon canola oil. Add pearl onions and cook until deep golden brown. Add the bacon back to the pot; turn off the pot and reserve.
In a food processor, blend the chipotle peppers in adobo, Roma tomato, garlic, serranochile, 1/4 cup water and TABASCO® Chipotle Sauce.
Add blended mixture to the bacon and onion pot and cook until the mixture reaches a thick consistency, similar to a BBQ sauce. Add the cherry tomatoes and cook for an additional 5 minutes until the tomatoes are half broken down. Stir in the TABASCO® Original Red Sauce. Season with salt to taste and set aside.
Toss shrimp with olive oil and season with salt. Grill shrimp over medium high for approximately 1 minute on each side or until pink and cooked through; set aside.
To serve, lay shrimp on a platter, top with the bacon and onion sauce and garnish with chopped parsley.
You will need:
Chipotle Sauce
A smoky, flavorful sauce. Pairs well with any BBQ dish.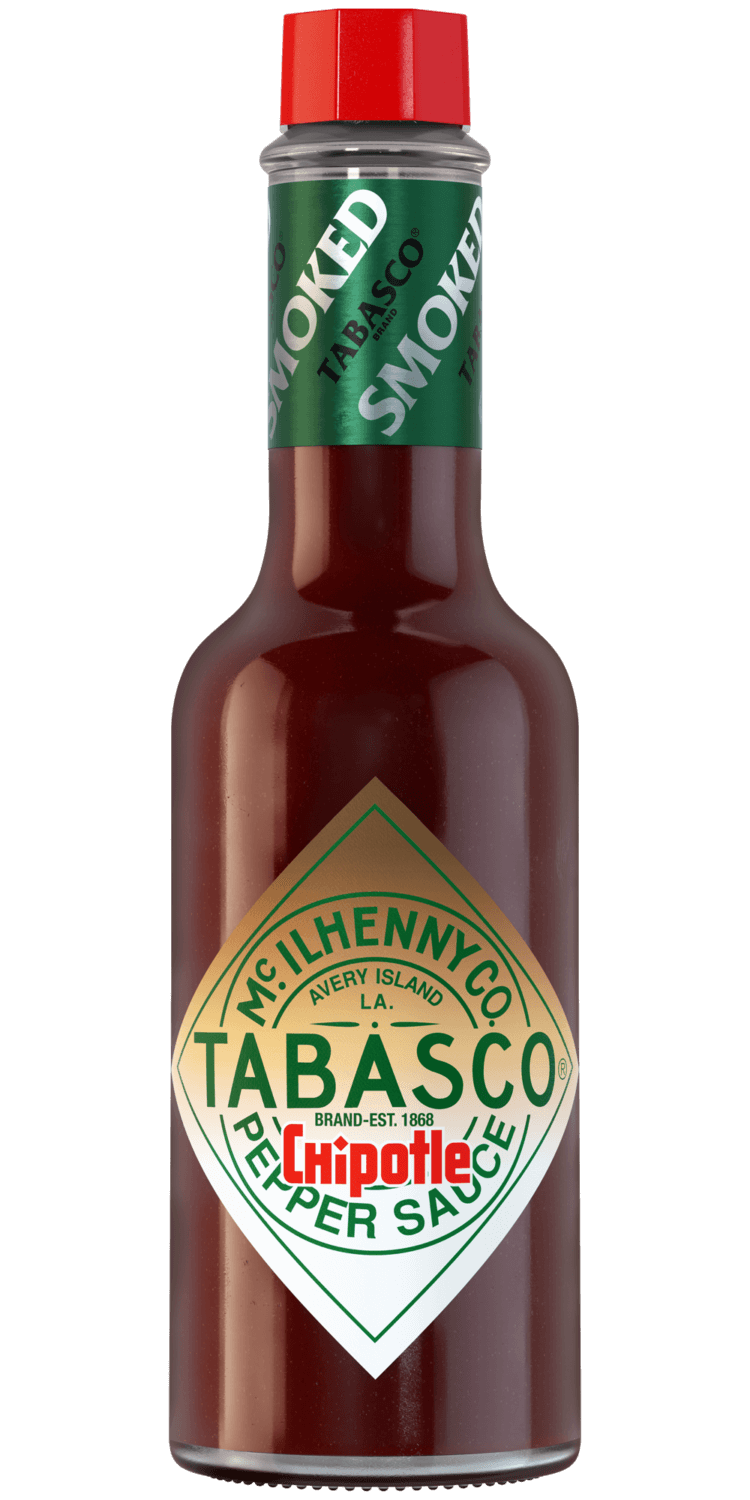 You will need:
Original Red Sauce
Our most versatile sauce. Enliven the flavor of any meal.