Beer and Hot Sauce-Braised Pork Ribs and Double-Dill Pickles
Isaac Toups, @toupsmeatery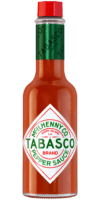 Original Red Sauce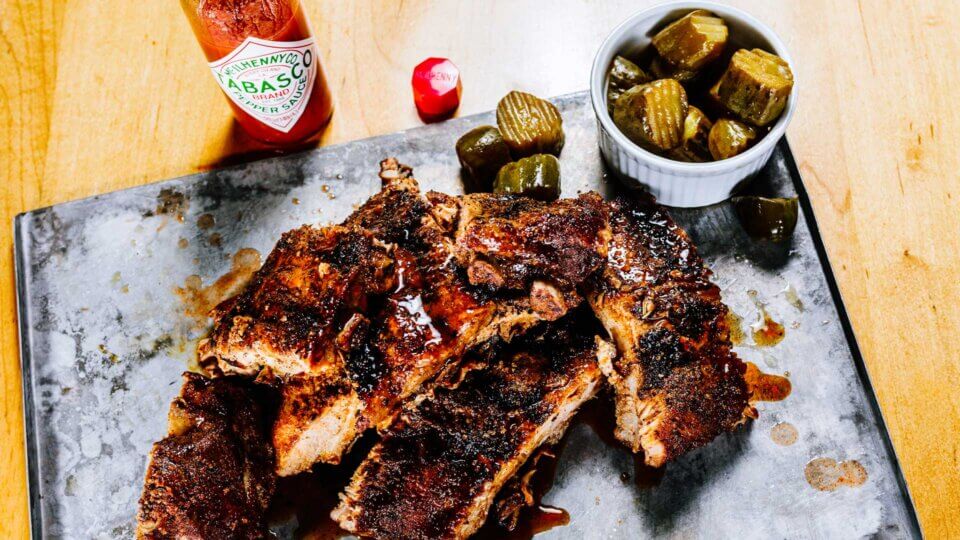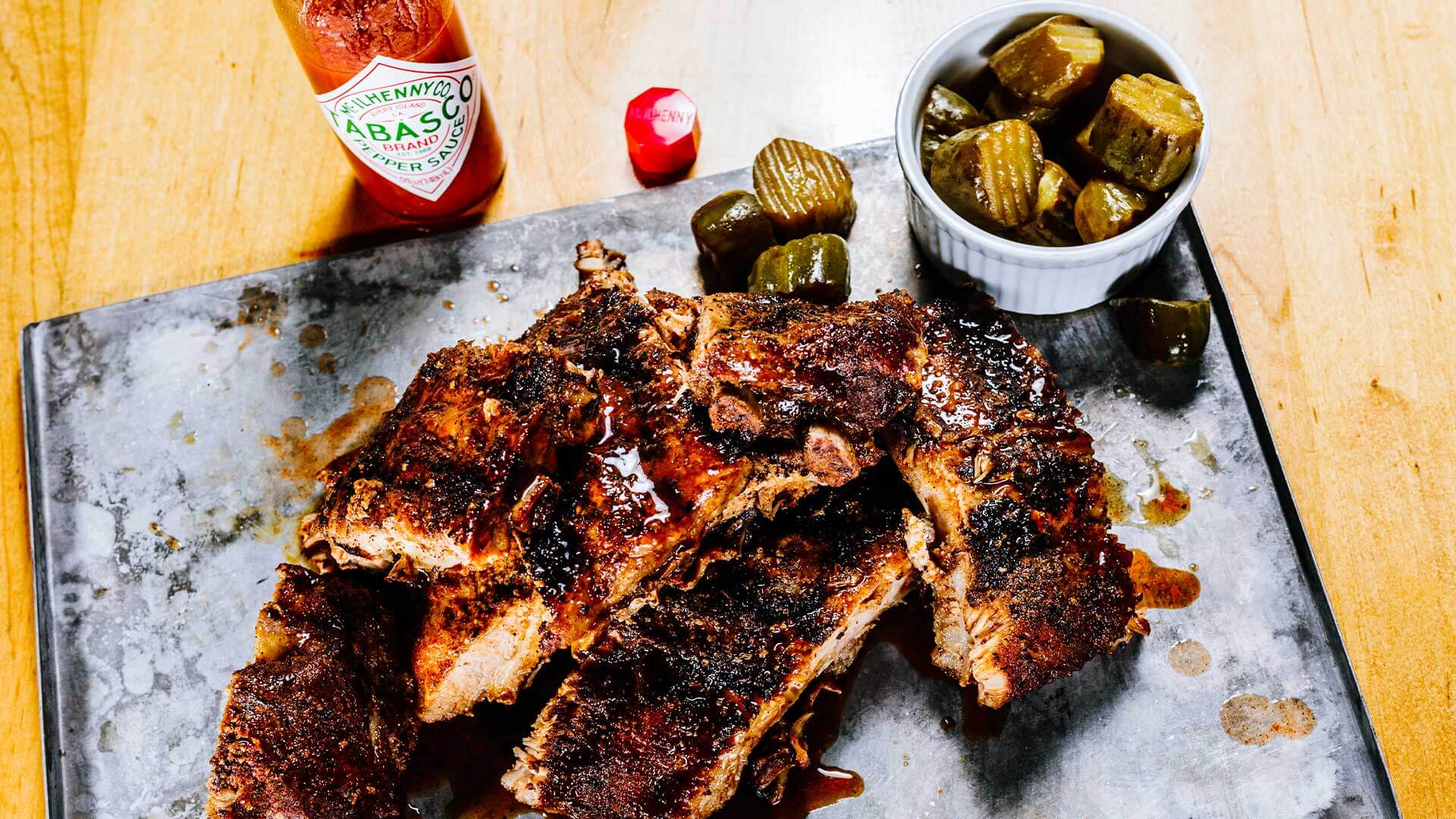 Ingredients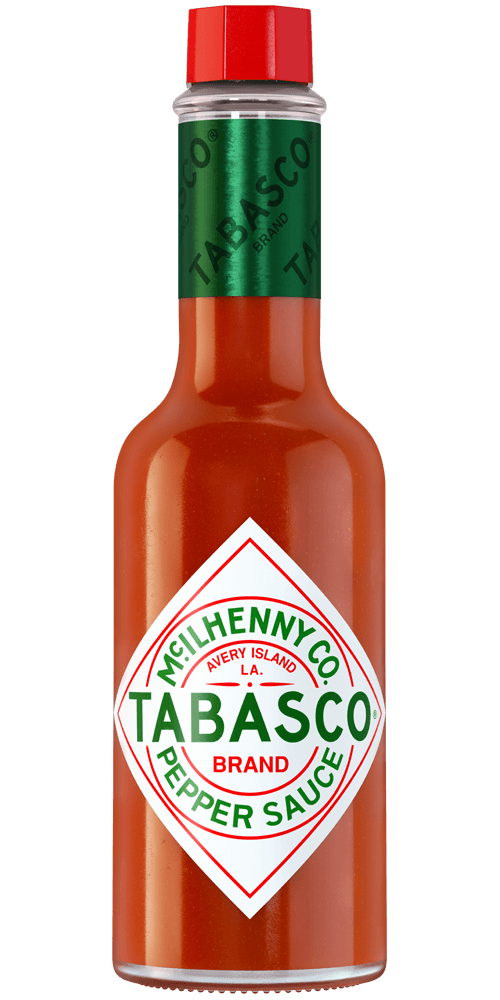 1 tablespoon
TABASCO® Original Red Sauce
3 pounds pork ribs
2 teaspoons Kosher salt
3 teaspoons Aleppo pepper
3 teaspoons smoked paprika
3 teaspoons coarsely ground black pepper
4 ounces amber beer
2 tablespoons honey
2 tablespoons unsalted butter at room temperature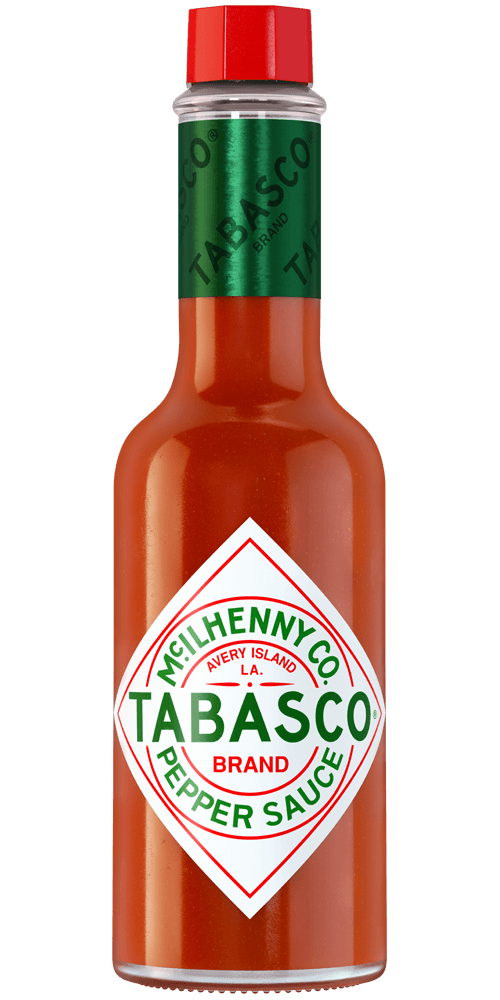 1 tablespoon
TABASCO® Original Red Sauce
32-ounce jar whole dill pickles
¾ cup brown sugar
Preparation
For the Ribs:
Season both sides of the rack of ribs with salt, Aleppo pepper, paprika, and black pepper, seasoning the meat side a bit more than the bone side. Let rest for 20 minutes in a roasting pan. Once it's rested, move the pan to the highest rack in your oven. Broil ribs for 5 minutes on each side, or until browned. Remove from the oven and heat oven to 325° F.
Take a large piece of aluminum foil and set the ribs on top. Create a boat-like shape that surrounds the ribs at the base. Pour beer, honey, and TABASCO® Original Red Sauce directly over the ribs and wrap foil to cover the ribs completely, using another piece of foil if necessary.
Place ribs back in the roasting pan and bake for 1 hour.
Remove ribs from the oven and de-foil. Pour any and all rib jus into a heatproof glass measuring cup or bowl and set aside. Skim off and discard the fat from the top of the jus.
Cut the rack into 1 bone segments and add to a large bowl. Add reserved jus and butter to the bowl and toss well. Let the ribs sit in the sauce for 2 minutes and then toss again before serving.
For the Double-Dill Pickles:
Remove the pickles from brine. Reserve the brine and save the jar. These are going to go right back in there.
Cut the pickles into 1⁄2-inch-thick slices and put back in the jar.
In a large stockpot, combine the reserved brine, brown sugar, and TABASCO® Original Red Sauce. Bring to a boil and stir. Once the sugar is fully dissolved, pour the hot liquid back over the pickles directly in the pickle jar. Let cool to room temperature. Refrigerate for 24 hours and they are good to go. They will keep refrigerated for several weeks.
Serve alongside Beer and Hot Sauce-Braised Ribs and enjoy!
You will need:
Original Red Sauce
Our most versatile sauce. Enliven the flavor of any meal.