Slow-Cooked Pork Ribs with Charred Chipotle Sauce
Created by Chef Justin Smillie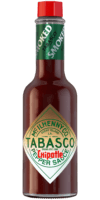 Chipotle Sauce
Ingredients
3/4 cup salt
1/4 cup brown sugar
1/4 cup dried oregano
1/4 cup garlic powder
1/4 cup onion powder
1/2 cup Dijon mustard
1/4 cup tomato paste
Zest of 2 limes
2 slabs pork baby back ribs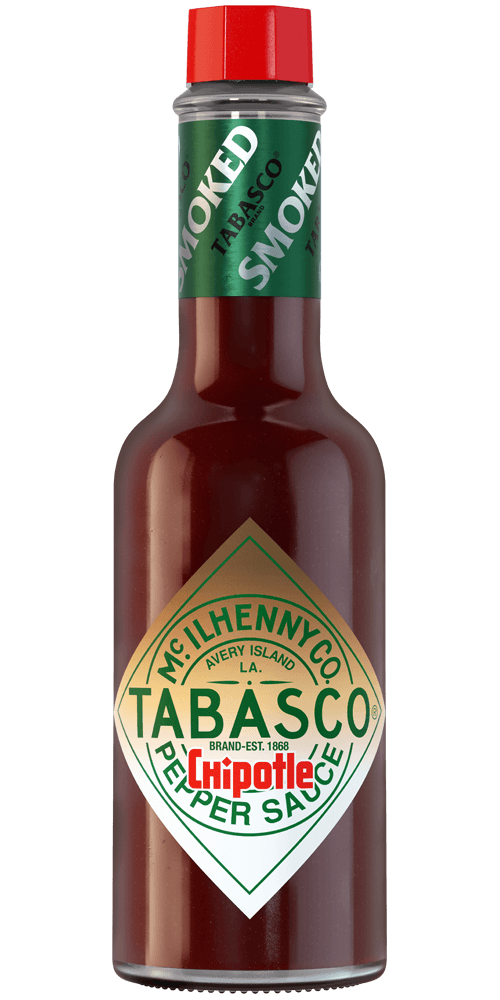 1/2 cup
TABASCO® brand Chipotle Pepper Sauce
1 head garlic
4 tablespoons olive oil, divided, plus more for roasting
2 red onions, sliced into 1/4-­inch rings
2 poblano peppers
6 beefsteak tomatoes, stems removed and cut in half
2 tablespoons agave syrup
1/4 cup red wine vinegar
2 tablespoons dark brown sugar
2 tablespoons light soy sauce
3 tablespoons fish sauce
Lime juice, to taste
1 bunch cilantro, chopped
Preparation
Start the ribs: Combine all ingredients, except the pork ribs, in a bowl; taste and adjust for seasoning. Trim any excess fat or connective tissue from the ribs. In a shallow pan season the ribs aggressively with the rub mixture; cover and refrigerate for 36 hours.
Heat grill to medium-high heat. Brush off excess rub and grill ribs on the flesh side to get a good char; remove from heat and place in a heavy-bottomed non-­reactive roasting pan.
Preheat oven to 325°F. Cover ribs with aluminum foil and seal tightly. Place in oven and roast for 2 1/2 hours. Remove and let cool.
Prepare Charred Chipotle Sauce: Preheat oven to 325°F. Place garlic head on piece of aluminum foil; douse lightly with olive oil and salt and wrap tightly in foil; roast in oven for 30 minutes until garlic is very tender. When ready you should be able to squeeze the garlic out like toothpaste.
In a large cast iron skillet, heat 1 tablespoon of olive oil over medium high heat and char the onions until tender and set aside in a small bowl. In same skillet, char the poblano peppers until tender and a little black. Place poblano peppers in bowl with charred onions and cover with plastic. Allow the onions and poblano peppers to steam; remove from bowl and peel, de-­seed and reserve. In same skillet over medium-high heat, char the tomatoes cut side down and roast until black.
Place garlic, onions, poblano peppers, tomatoes, agave, red wine vinegar, brown sugar, TABASCO® Chipotle Sauce, soy sauce, and fish sauce in a food processor and pulse for a coarse purée.
In a large heavy-bottomed Dutch oven, heat 3 tablespoons olive oil over high heat and sauté the purée for 8-10 minutes, allowing the flavors to mix together. Add lime juice and cilantro and mix together. Set aside.
To finish ribs, heat grill to medium-high heat, cook the ribs flesh side up and baste with a portion of the sauce until sticky.
To serve, place ribs on platter and slather with remaining sauce.
You will need:
Chipotle Sauce
A smoky, flavorful sauce. Pairs well with any BBQ dish.