Spicy Hummus with Harissa
Created by Chef Einat Admony of Balaboosta, Bar Bolonat, Kish-Kash, & Taïm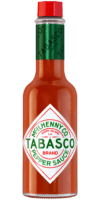 Original Red Sauce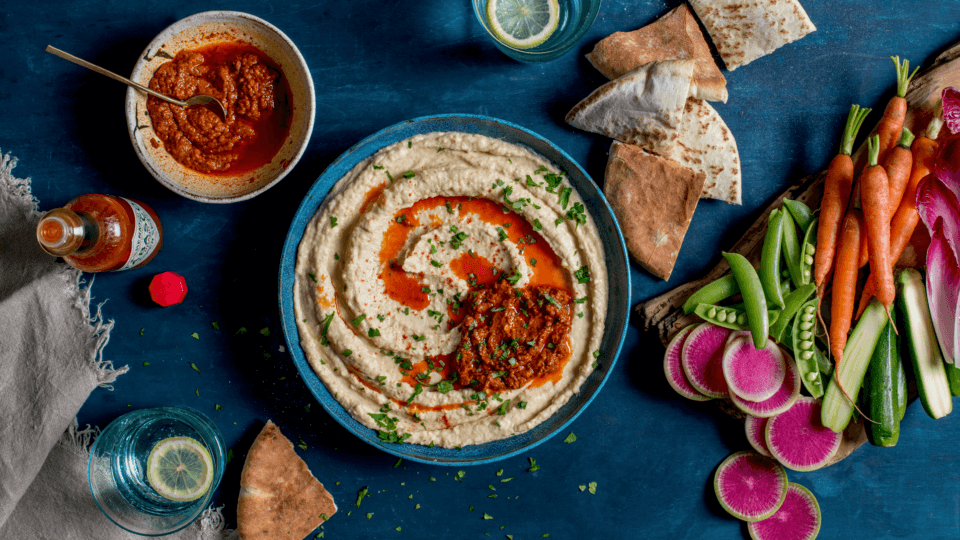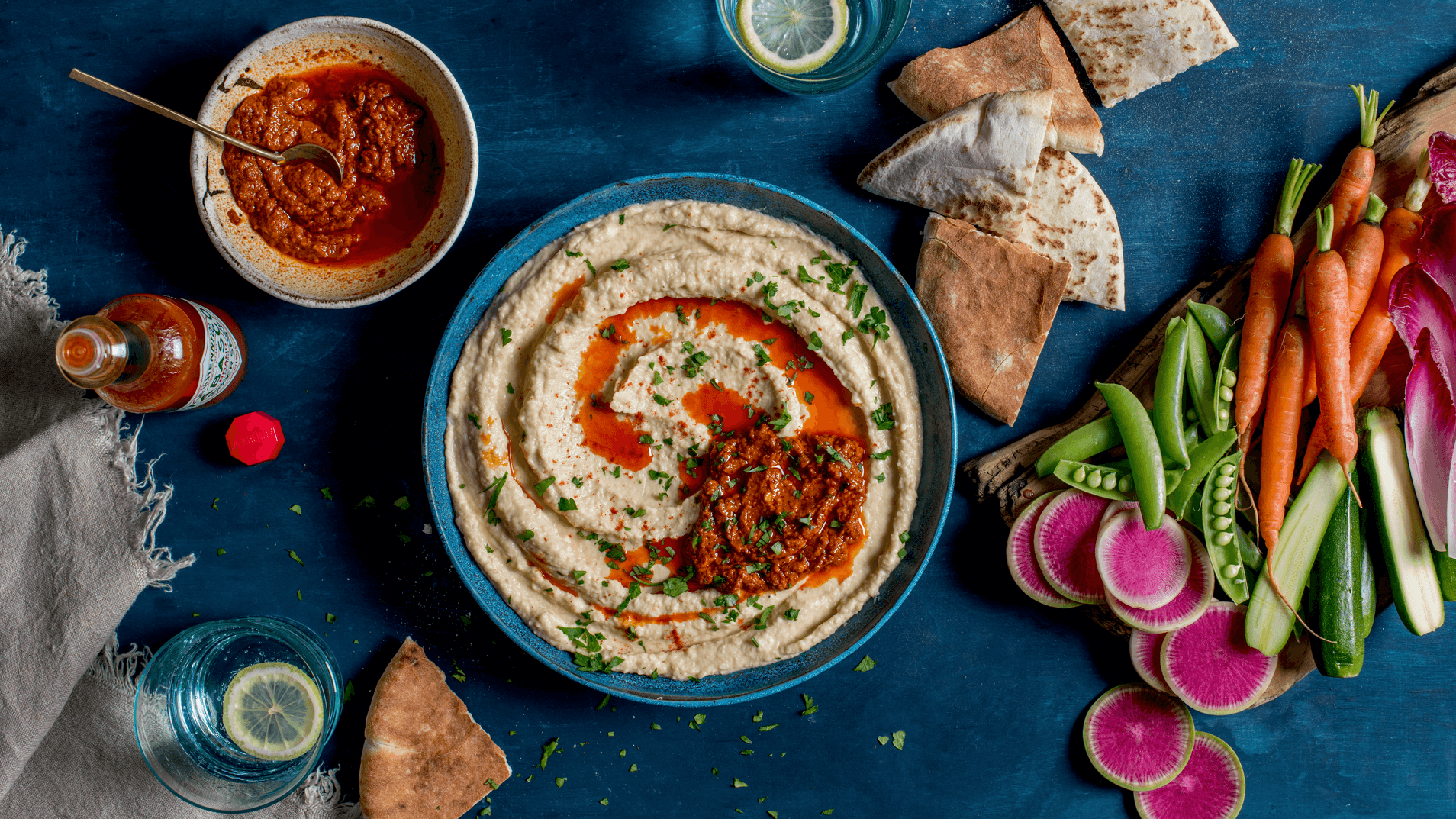 Ingredients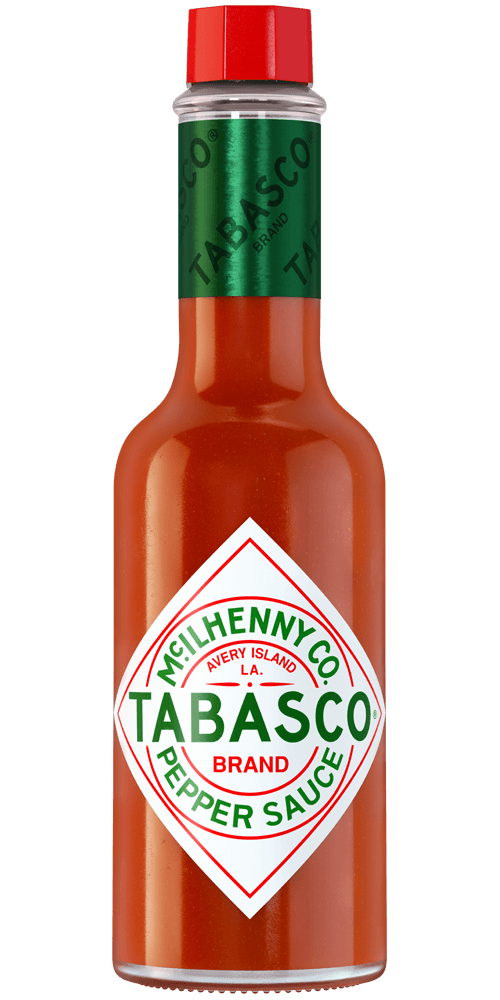 2 teaspoons
TABASCO® brand Original Red Sauce
3 cups dried chickpeas
2 1/2 teaspoons baking soda
2 large garlic cloves, finely chopped
1/3 cup tahini (I prefer the White Dove brand)
2 tablespoons fresh lemon juice
3 tablespoons olive oil, plus more for garnish
1 1/2 teaspoons kosher salt
1/2 teaspoon ground cumin
Small pinch of freshly ground black pepper
2 tablespoons TABASCO® Sauce
10 garlic cloves
1 large red bell pepper
1 1/4 cups canola oil
1/2 cup ground cumin
1 teaspoon cayenne pepper
1/3 cup sweet Hungarian paprika
1/4 cup ground caraway
1 tablespoon, plus 1 teaspoon kosher salt
Preparation
For Spicy Hummus
In a bowl, add the chickpeas and 1 1/2 teaspoons of the baking soda. Add cold water to cover and leave to soak overnight.
Drain the chickpeas and transfer them to a large pot of water. Add the remaining 1 teaspoon baking soda and bring to a boil. Boil until the chickpeas are tender, 45 to 50 minutes. Skim off any floating shells.
Drain, reserve 1 cup of the cooking liquid, and let the chickpeas cool completely.
In a food processor, combine the chickpeas, garlic, reserved liquid*, tahini, lemon juice, TABASCO® Sauce, 3 tablespoons of the olive oil, salt, cumin, and pepper and puree until smooth and creamy.
The hummus can be stored in an airtight container for up to 3 days.
For Harissa
Place the bell pepper directly on a hot grill or under a broiler and roast until the skin is charred on all sides, about 20 minutes. Place in a bowl and cover tightly with plastic wrap without letting the plastic wrap touch the hot bell pepper. Let the pepper cool completely.
Carefully remove the skin, cut off the stems, and scrape off the seeds. Slice the pepper into large chunks.
In a food processor, combine the garlic, bell pepper, and 1 cup of the oil. Pulse until the mixture is almost pureed.
Add the cumin, cayenne, TABASCO® Sauce, paprika, caraway, and salt. Slowly drizzle in the remaining 1/4 cup oil while the machine is running. Keep processing until the harissa is completely pureed and all the ingredients are thoroughly combined.
Store the harissa in an airtight container in the refrigerator for up to 3 months.
Serving Suggestion
When ready to serve, put the hummus on a plate or in a shallow bowl, make a well with a spoon, and garnish with a spoonful of harissa in the center and a drizzle of olive oil.
*If you forget to reserve the cooking liquid, you can substitute 1 cup ice-cold water. But using the cooking liquid will give the hummus a richer, bolder flavor.
You will need:
Original Red Sauce
Our most versatile sauce. Enliven the flavor of any meal.