Kuku Sabzi (Persian Herb, Walnut & Cranberry Frittata)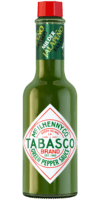 Green Jalapeño Sauce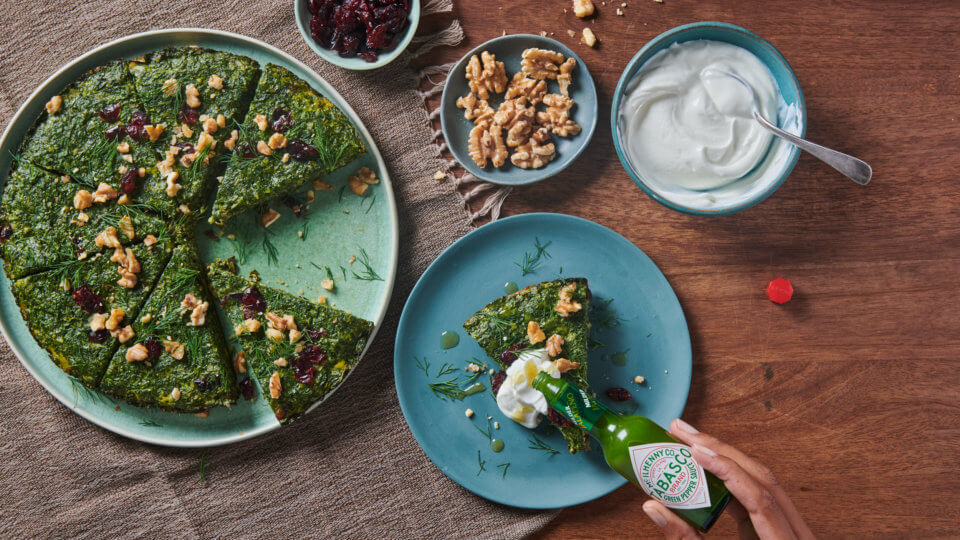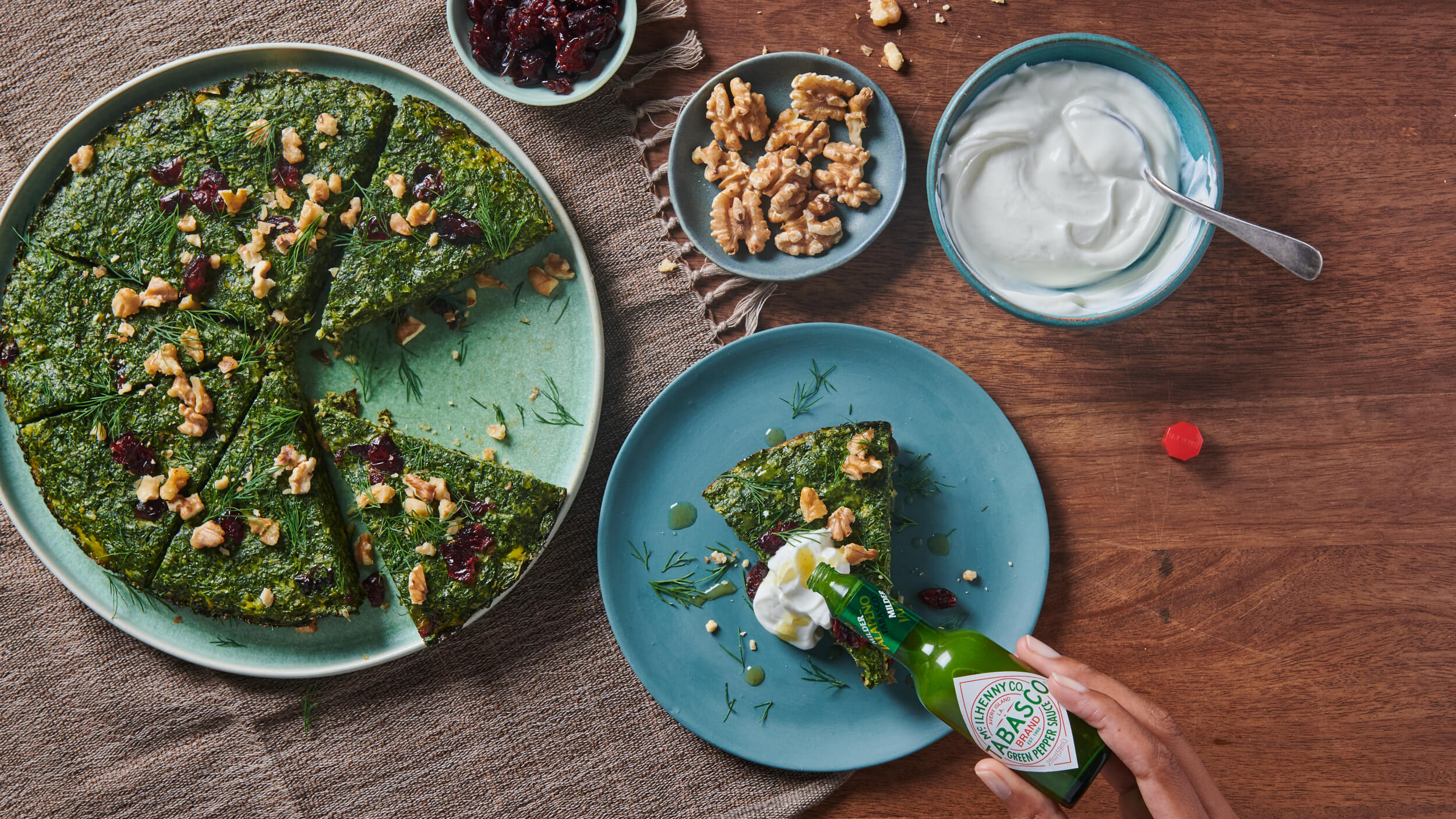 Ingredients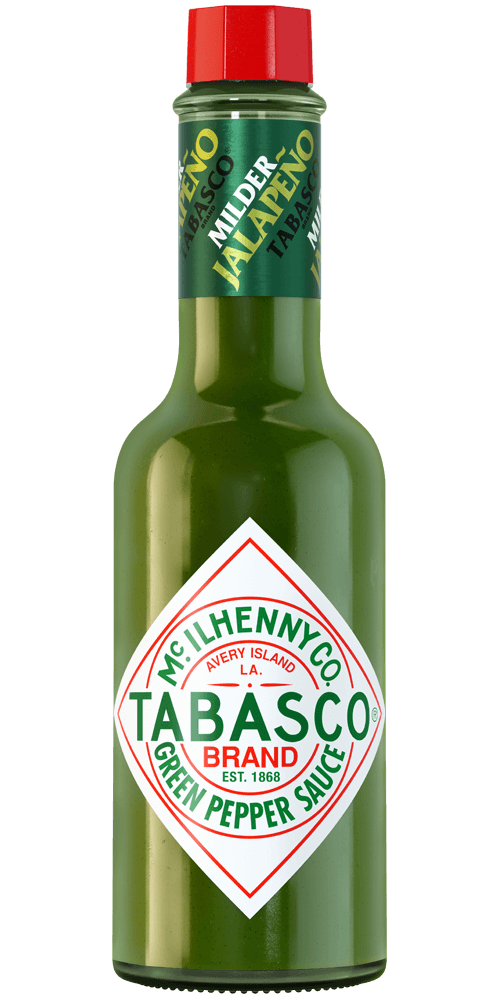 2-3 tbsp
TABASCO® brand Green Jalapeño Pepper Sauce
2 tbsp olive oil
1 large leek (about 6.5 oz), finely chopped
1 large bunch cilantro, finely chopped (approx. 2 cups chopped)
1 large bunch parsley, finely chopped (approx. 2 cups chopped)
1 large bunch dill, finely chopped (approx. 2 cups chopped)
1 tsp ground cumin
1/3 cup barberries (or use cranberries if barberries aren't available)
5 eggs, lightly beaten
Salt and pepper, to taste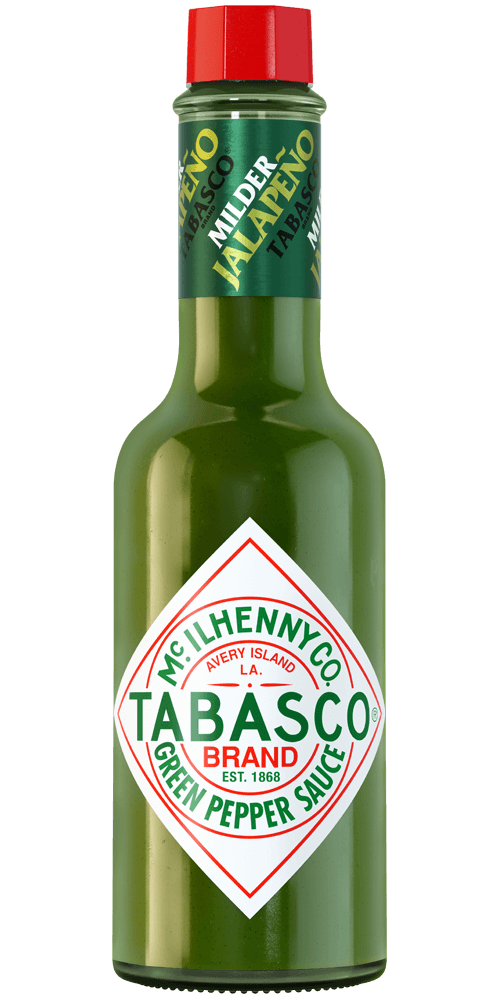 TABASCO® brand Green Jalapeño Pepper Sauce
Handful walnuts, toasted and roughly chopped
Handful barberries (or use cranberries if barberries aren't available)
Greek yoghurt or labneh
A few sprigs of dill
Preparation
Heat 1 tbsp olive oil in a 10" ovenproof non-stick frying pan or skillet. Add the chopped leek and reduce the heat. Gently fry for 10-15 minutes until softened and translucent, stirring occasionally to prevent the leek browning or catching (this is to ensure the kuku is as green as possible). Transfer to a plate and set aside to cool slightly.
Meanwhile, chop the herbs. You can either do this all at once or in batches. Take a large bunch and compress it together with one hand, while carefully chopping with a sharp knife in the other. Rock the knife back and forth over the herbs to chop as finely as possible.
Place all the herbs into a mixing bowl along with the TABASCO® brand Green Jalapeño Pepper Sauce, cumin, barberries (or cranberries) and leek. Season with plenty of salt and pepper to taste.
Add in the beaten eggs and mix gently to combine. The mixture should be very thick, with only just enough egg to bind the herbs together.
Wipe out the same pan used for the leeks and add in the remaining 1 tbsp olive oil. With the pan on a medium-high heat, pour in the kuku sabzi mixture and spread out into a thick, even layer using a spatula. Reduce the heat, cover the pan and allow to cook for 8-10 minutes, or until just set with a slight wobble at the centre.
Meanwhile, heat the grill to 325F. Carefully transfer the pan to the oven just for a minute to finish off the top of the kuku sabzi, watching carefully to make sure it doesn't brown or overcook – you want it to stay as green as possible!
Remove from the oven and carefully slide onto to a serving plate. Top with the chopped toasted walnuts and a handful of barberries (or cranberries if using). Serve immediately with some Greek yoghurt or labneh topped with a few drops of TABASCO® brand Green Jalapeño Pepper Sauce and a few sprigs of dill.
You will need:
Green Jalapeño Sauce
Mild jalapeño flavor. Pairs well with dips and Mexican cuisine.