Stout TABASCO® Chipotle Glazed Pork Jowl
Created by Chef Cesar Zapata of The Federal Food, Drink & Provisions.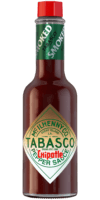 Chipotle Sauce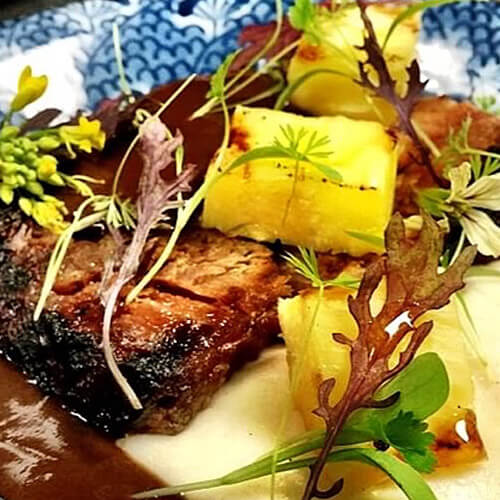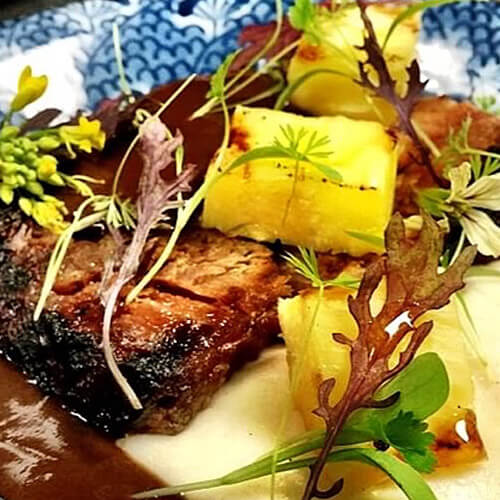 Preparation
Prepare the Stout TABASCO® Chipotle Glaze: Mix all ingredients in a saucepan over medium heat. Cook until liquid is reduced by half; remove from heat and cool. Note that the mixture will continue to thicken as it cools.
Prepare the Masa Harina: Bring milk to a simmer in a saucepot over medium-high heat; pour masa harina into simmering milk, stirring constantly until it starts to thicken. Lower heat and continue to mix for approximately 10 minutes. Add cheese and stir. Cook until cheese is well incorporated. Remove from heat and set aside.
Prepare the Mole Negro: Heat oil in sauté pan over medium-high heat; add onions until translucent; add sesame seeds, ground allspice and garlic and cook for approximately 1 minute. Place mixture in a blender and add remaining ingredients. Blend until all ingredients are pureed. Pour into a saucepot. Cook at medium-low heat until sauce thickens. Strain through a fine mesh sieve and reserve.
Prepare the Smoked Pineapple: In a portable smoker add applewood chips; place smoking rack over chips and place pineapple batons in a single layer. Cover smoker and place on stove at medium heat. Once smoke rises from smoker, remove from heat and let sit for 10 minutes. Remove pineapples.
Prepare the Pork Jowl: Preheat grill to high heat. Season pork jowl with salt and pepper and place on grill. Glaze pork jowls with glaze and continue to cook, flipping occasionally until pork jowls are cooked through and caramelized from the sauce, approximately 5 minutes.
Place 3 tablespoons of masa harina on a plate; place pork jowl on top of masa harina; pour 1 tablespoons of mole sauce over pork jowl. Garnish with smoked pineapple, cilantro leaves and couple of drops of TABASCO® Chipotle Sauce.
You will need:
Chipotle Sauce
A smoky, flavorful sauce. Pairs well with any BBQ dish.