Seared Scallops with Carrot Purée and Chorizo
Created by Chef Santiago Gómez de la Fuente of Cantina La Veinte.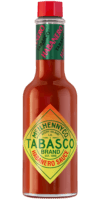 Habanero Sauce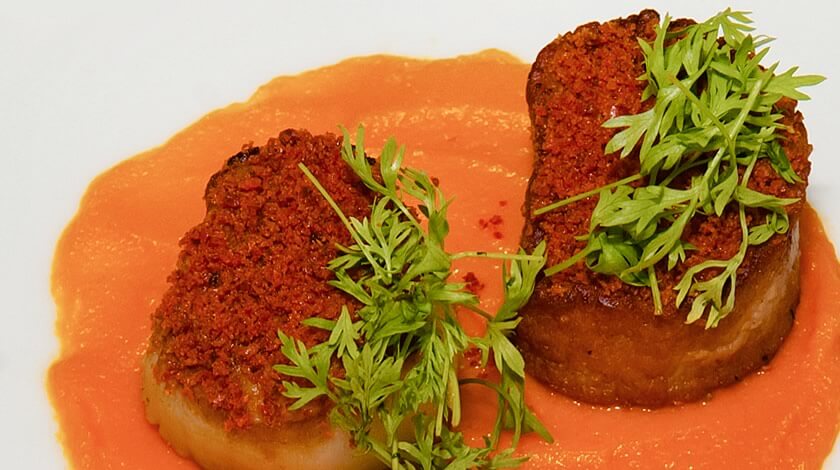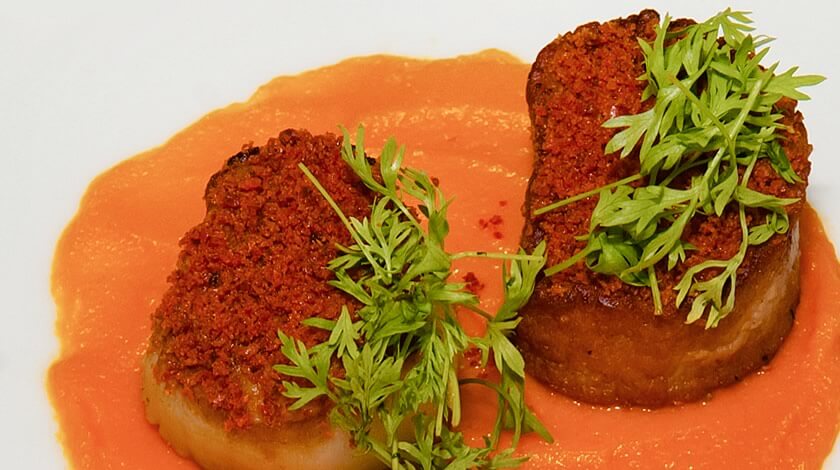 Ingredients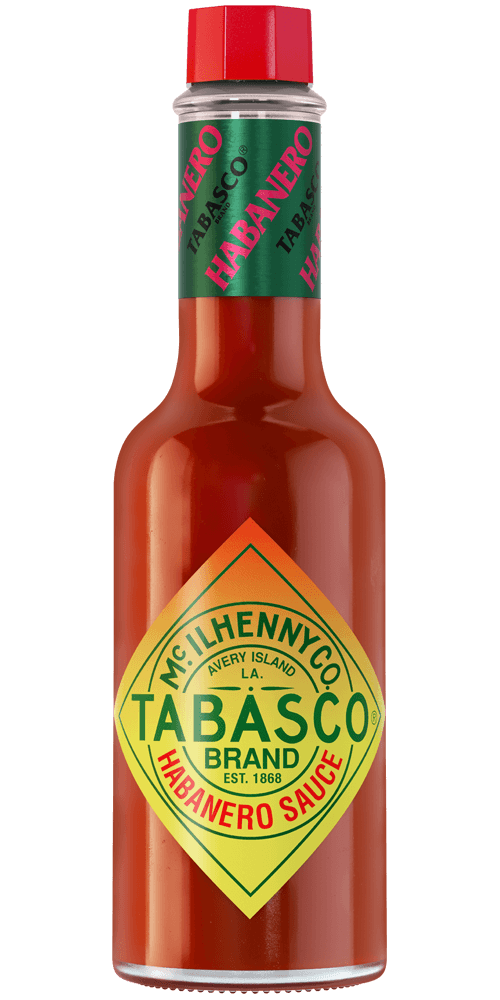 1/2 teaspoon
TABASCO® brand Habanero Sauce
, or more to taste
3 tablespoons butter, divided
4 tablespoons diced white onion
1 tablespoon diced garlic
10 large carrots, peeled and diced
1 cup carrot juice
Salt to taste
1/2 tablespoon olive oil
3 tablespoons chopped Mexican chorizo
6 large sea scallops, patted dry
Salt to taste
Preparation
Prepare the Carrot Purée: In a large cast iron skillet over low heat, melt 2 tablespoons butter and add onion; cook until soft, approximately 3 minutes. Add garlic, carrots and salt to taste; cook until carrots are soft, approximately 5 minutes. Add carrot juice and bring to a boil. Cover pot and cook 10 minutes. Strain and reserve the liquid.
In a blender, puree carrot mixture, adding carrot liquid if too dry. Add remaining butter and TABASCO® Habanero Sauce. Season with salt to taste and reserve.
Prepare the Scallops: Heat olive oil in a large pan over low heat. Add chorizo and cook until crispy, approximately 5 minutes. Drain the chorizo, reserving the oil, and return oil to pan. Raise heat to high.
Season scallops with salt, and place in pan. Sauté for 2 minutes on each side. Remove scallops from pan and place on a paper towel-lined plate. Allow to rest 1 minute before serving.
To serve, place 1 tablespoon carrot purée in center of a plate. Drag the back of a spoon through the purée to create a line. Place 2 scallops on top of the purée and top with chorizo.
You will need:
Habanero Sauce
Our hottest sauce. A fruity, jamaican style blend.