Jalapeño-Spiced Vegetarian Chili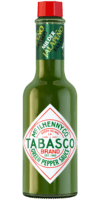 Green Jalapeño Sauce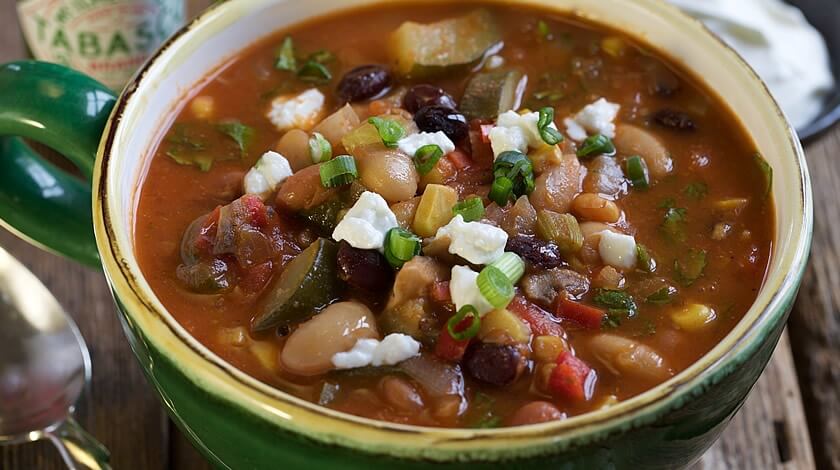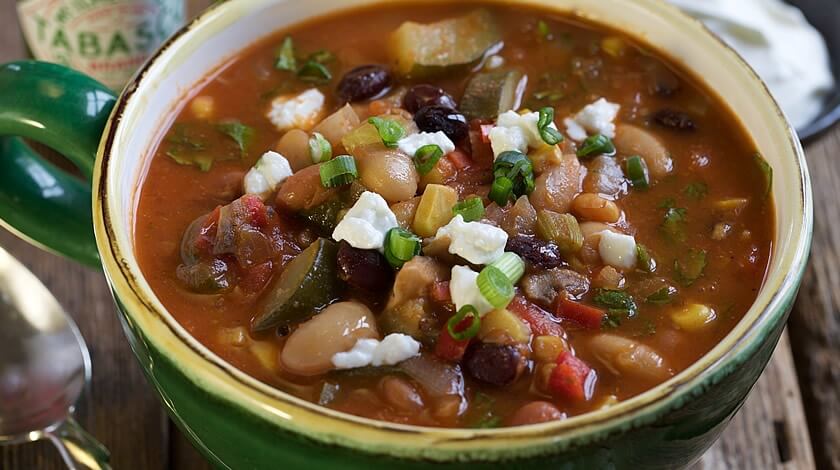 Ingredients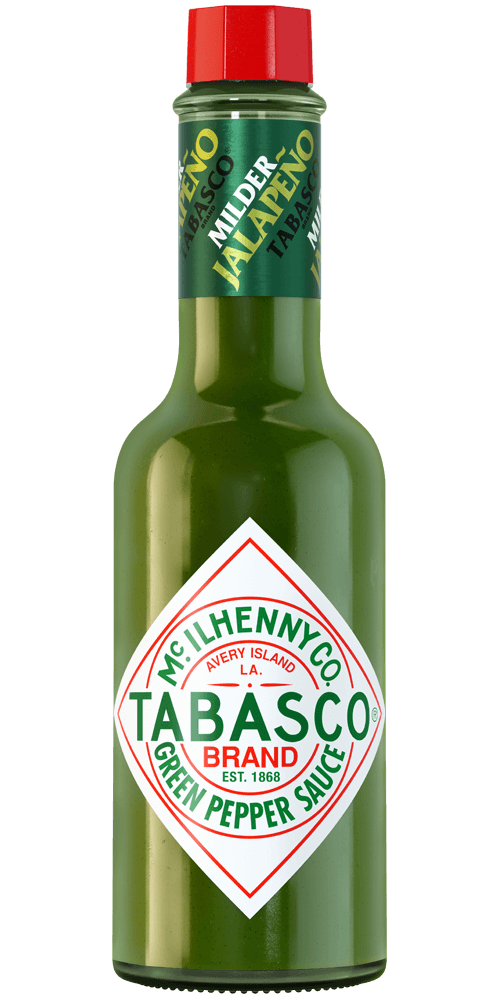 2 tablespoons
TABASCO® brand Green Jalapeño Pepper Sauce
2 tablespoons olive oil
4 cloves garlic, minced
1 red onion, chopped (approximately 1 cup)
1 green bell pepper, chopped (approximately 1 cup)
1 red bell pepper, chopped (approximately 1 cup)
4-5 stalks celery, chopped (approximately 2 cups)
4 zucchini, chopped (approximately 2 cups)
2 cups chopped mushrooms
6 medium tomatoes, chopped
1 (15.5-ounce) can pinto beans, with liquid
1 (15.5-ounce) can black beans, with liquid
1 (15.5-ounce) can cannellini beans, with liquid
1 (15.5-ounce) can corn, drained
2 cups tomato sauce
1 teaspoon salt
1 teaspoon black pepper
2 teaspoons chili powder
1 teaspoon ground cumin
1 teaspoon dried oregano, crushed
1 tablespoon brown sugar
2 tablespoons chopped cilantro
1 (6-ounce) package goat cheese, crumbled
1 cup sour cream
1 cup chopped green onion
Preparation
Heat oil in a large, heavy stockpot over medium high heat. Add the garlic, onion and bell pepper. Cook until tender, about 10 minutes. Add the celery, zucchini, mushrooms and tomatoes. Continuing cooking for another 15 minutes.
Add the beans and their liquid, along with the corn and tomato sauce. Stir in the salt, pepper, chili powder, cumin, oregano, TABASCO® Green Sauce and brown sugar. Bring to a boil. Lower the heat to low and simmer for one hour or until desired consistency. Stir in the cilantro before serving.
Garnish with goat cheese, sour cream and green onion, if desired.
You will need:
Green Jalapeño Sauce
Mild jalapeño flavor. Pairs well with dips and Mexican cuisine.