Green Buffalo Crispy Cauliflower Tacos
Created by Chef Cesar Zapata of The Federal Food, Drink & Provisions.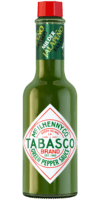 Green Jalapeño Sauce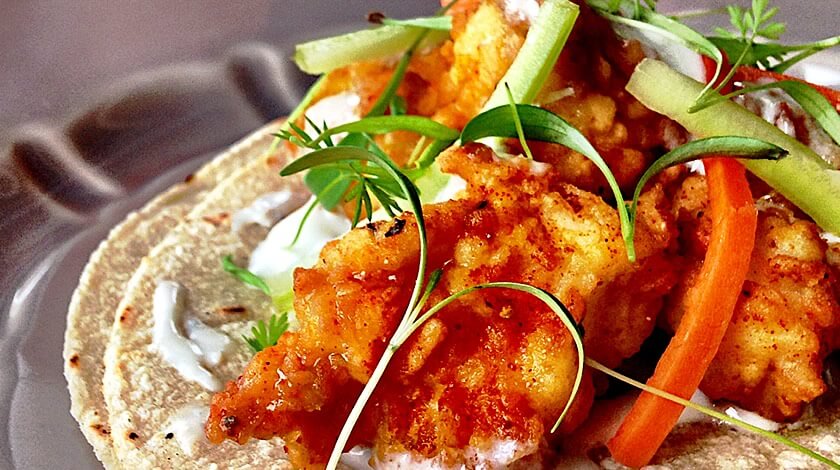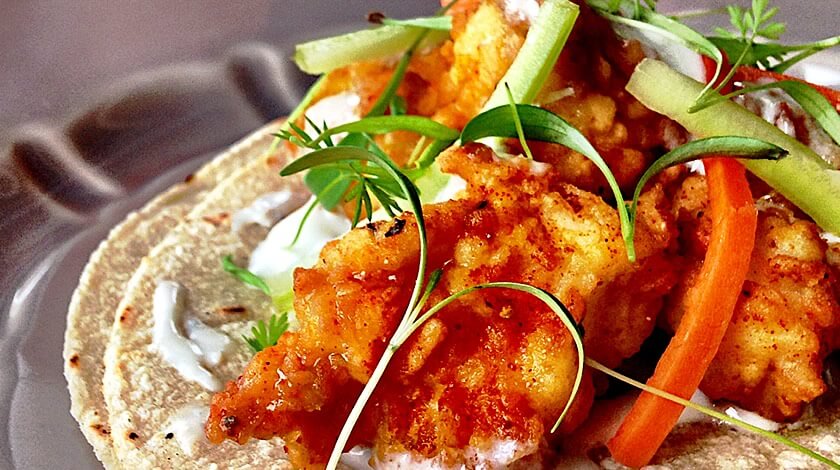 Preparation
Prepare the Green Buffalo Sauce: Preheat oven to 400°.
Brush poblano peppers with oil and place in oven until dark and charred, but not burned (approximately 15-20 minutes). Cool and remove stems and seeds; keep skin for flavor.
In a medium saucepot, add all ingredients except roasted poblano peppers and butter. Over medium-high heat, cook until sauce comes to a boil. Remove from heat and let cool. When sauce is completely cool, add to a blender with roasted poblano peppers and butter and blend until sauce is completely incorporated. Strain sauce with a fine mesh strainer.
Prepare the Blue Cheese Crema: Add all ingredients to a saucepot and bring to a simmer over medium-high heat; remove from heat. Place blue cheese mixture in a blender and blend until well incorporated. Set aside.
Prepare the Pickled Carrots and Celery: In a pot, bring vinegar, sugar, water and salt to boil over high heat. Remove from heat and pour over carrots and celery. Let cool and reserve.
Prepare the Cauliflower: Combine flour, kosher salt, black pepper and paprika in a bowl. Add the cauliflower and toss to coat. Place in buttermilk and roll cauliflower around until coated completely. Toss cauliflower in flour mixture a second time until completely coated.
In a frying pan or deep fryer, heat oil over high heat to 350ºF. Fry cauliflower until golden brown, about 3-4 minutes. Remove and toss in Green Buffalo Sauce.
To serve, place cauliflower in your favorite corn or flour tortilla; top with blue cheese crema, pickled vegetables, and cilantro. Serve hot.
You will need:
Green Jalapeño Sauce
Mild jalapeño flavor. Pairs well with dips and Mexican cuisine.