Fresh From Our Flavor Lab: TABASCO® Rocoto Pepper Sauce
Note: TABASCO® Rocoto Pepper Sauce is no longer available.

Today, we're excited to announce a brand-new offering from our Flavor Lab—TABASCO® Rocoto Pepper Sauce! Inspired by bold, global flavors, the limited-edition sauce is made with fresh Peruvian rocoto peppers, maple syrup and spices inspired by Baharat – a Middle Eastern blend which typically includes black pepper, cinnamon, cloves, cardamom and nutmeg. And, to complete the sauce with our signature twist, we added a dash of TABASCO® Original Red Sauce.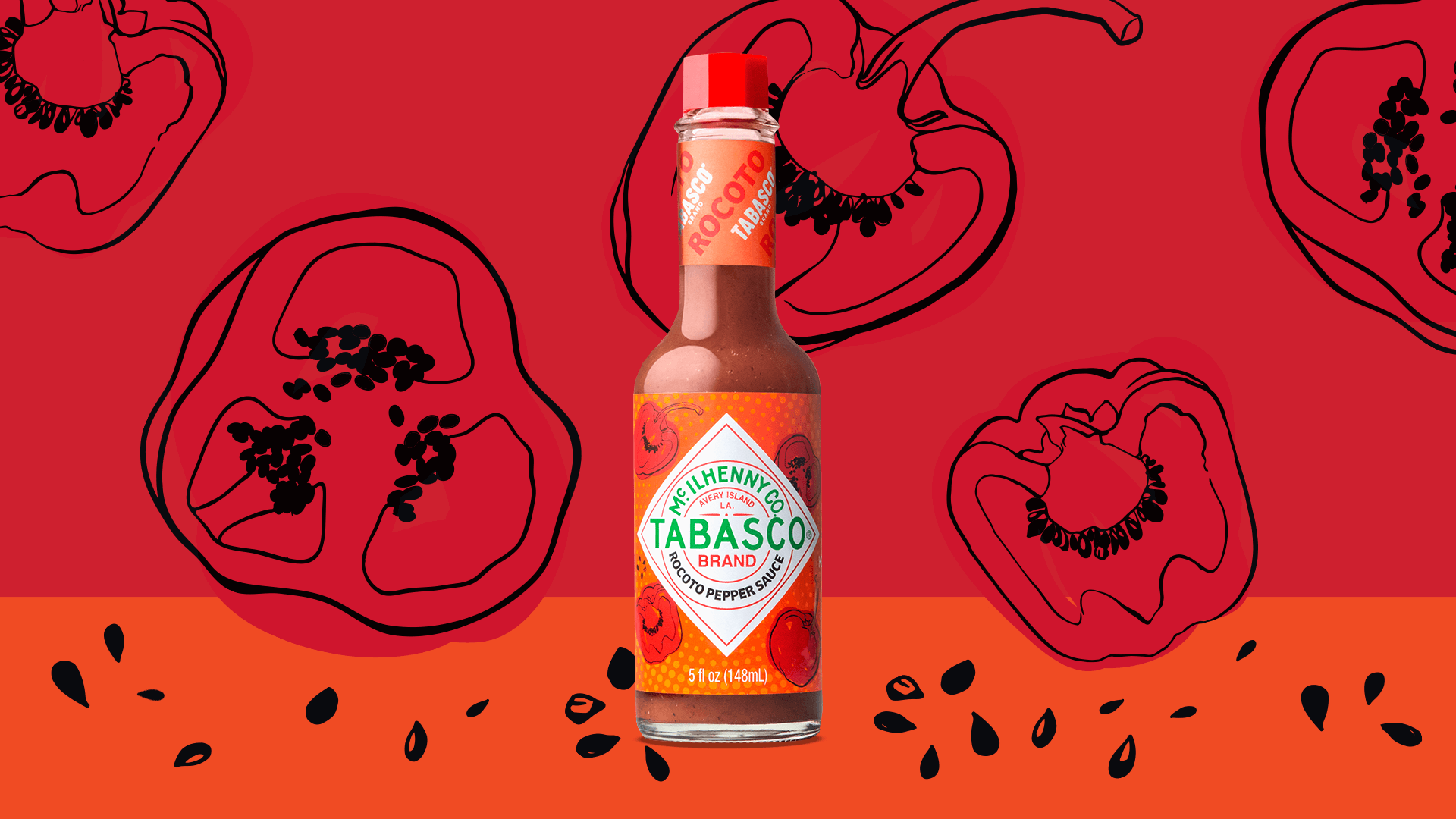 The resulting blend is zesty, aromatic and slightly sweet. It's like a world tour for your taste buds – from the Andes to the Middle East to Avery Island, Louisiana. Compared to TABASCO® Original Red Sauce, Rocoto Pepper Sauce is slightly milder with a Scoville rating of 1,500 units.
You might be wondering, "What exactly is a rocoto pepper anyways?" For those unfamiliar, the unique pepper resembles a small, red bell pepper or apple and contains black seeds, which give TABASCO® Rocoto Pepper Sauce its speckled look. The pepper's skin is thick like a bell pepper, and its taste has a sweet, citrus start with a fiery ending. Unlike most domesticated peppers, rocoto peppers grow at a high elevation and are primarily found in the Andes Mountains in Peru and in parts of Bolivia, Mexico, and Colombia.
TABASCO® Rocoto Pepper Sauce is available now exclusively through our online Country Store while supplies last. Just in time for the holiday season, the new sauce is the perfect gift for the culinarily-inclined or the hot sauce fans in your life.
With bottle in hand, be sure to check out the below recipe for Albondigas Roti by Chef Akhtar Nawab of New Orleans-based Otra Vez and New York City-based Alta Calidad. This globally inspired dish highlights the deliciously unique flavors of TABASCO® Rocoto Pepper Sauce and shows just one of the countless ways you can experience them.
Albondigas Roti
Created by Chef Akhtar Nawab of Otra Vez and Alta Calidad
Ingredients
For the albondigas
2 ½ pounds ground wagyu beef
1 egg
2 teaspoons fish sauce
1 small onion, minced fine
3 tablespoons TABASCO® Rocoto Pepper Sauce
2 sprigs cilantro, minced
2 sprigs mint, minced
1-inch ginger, peeled and chopped fine
2 cloves garlic, peeled and chopped fine
2 tablespoons kosher salt
1 teaspoon agave or honey
For the roti
2 ½ cups all-purpose flour
1 teaspoon sugar
1 teaspoon baking powder
1 teaspoon salt
1 cup water
Preparation
For the albondigas
Preheat oven to 350°F and ensure all ingredients are chilled before mixing.
In a large bowl, mix all ingredients by hand slowly until well combined. Shape into small meatballs about the size of a quarter and place onto a sheet tray. Roast meatballs in the oven for 20 minutes until cooked all the way through.
For the roti
In a large bowl, combine all dry ingredients and slowly pour in the water. Mix until well combined and allow to rest for 30 minutes. Roll out a piece of dough, about 2" in diameter until thin and nearly transparent using as little flour as possible.
Heat a dry skillet on high and cook roti on both sides until nicely blistered.
Serving suggestion
Place the roti on a large plate and add the meatballs on top. Garnish with cilantro, parsley, chives, and pickled onions. Drizzle with some additional TABASCO® Rocoto Pepper Sauce on top of the roti for a little extra heat and zip.
Makes 4 Servings