TABASCO® Brand x Catch'N Ice Cream Create Guac Serve
TABASCO® Brand & Catch'N Ice Cream Celebrate National Guacamole Day with Free Avocado Jalapeño Sauce-Based Ice Cream
TABASCO® Brand has teamed up with Catch'N Ice Cream to create Guac Serve, a fun and creative riff on guacamole that combines the sweet and creamy flavor of Catch'N Ice Cream with the mild and zesty flavor of TABASCO® Green Jalapeño Sauce. This exciting and unexpected combo also keeps you cool in the summer heat.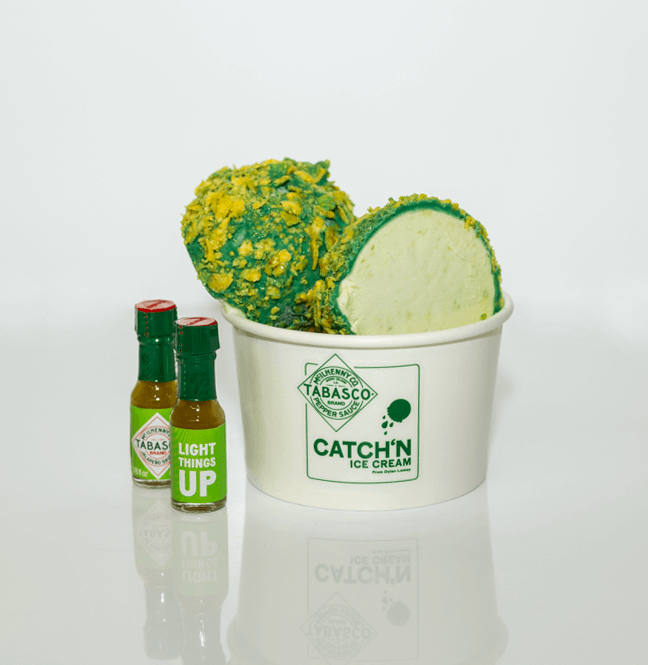 Guac Serve is an avocado based ice cream featuring TABASCO® Green Jalapeño Sauce that's coated in white chocolate and topped with crunchy tortilla chip pieces. The sweet and creamy flavor of the ice cream is balanced by the mild and zesty flavor of TABASCO® Green Jalapeño Sauce for a surprisingly sweet and salty treat.
Catch'N Ice Cream will offer free Guac Serve on National Guacamole Day (Saturday, September 16th) at 65 Bleeker Street, New York, New York, from 12-4 p.m. while supplies last.
It sounds counterintuitive, but eating spicy foods helps to cool you down in the summertime, which is why we wanted to develop an ice cream flavor using TABASCO® Sauce. I love to experiment and tried a lot of different combinations before realizing that avocado ice cream was the perfect pairing. – Dylan Lemay
Gauc Serv ingredients include TABASCO® Brand Green Pepper Sauce, fresh avocados, tortilla chips, white chocolate and lime juice.
For those who can't visit Catch'N Ice Cream on September 16th, you can make your own Guac Serve at home using this recipe.