Steak & Cheese Potato Skins with Roasted Garlic and TABASCO® Sauce Compound Butter
Josh Scherer, @mythicalkitchen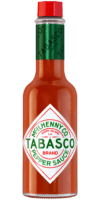 Original Red Sauce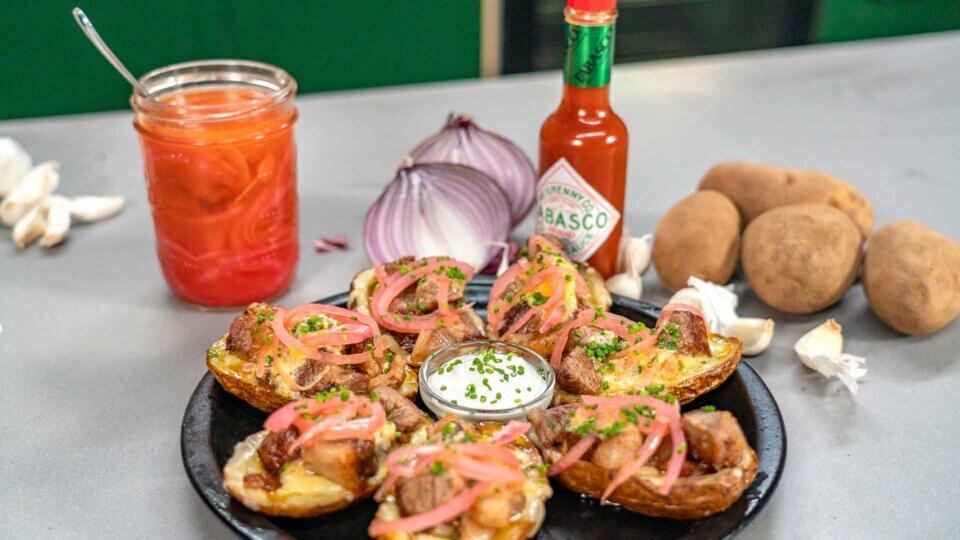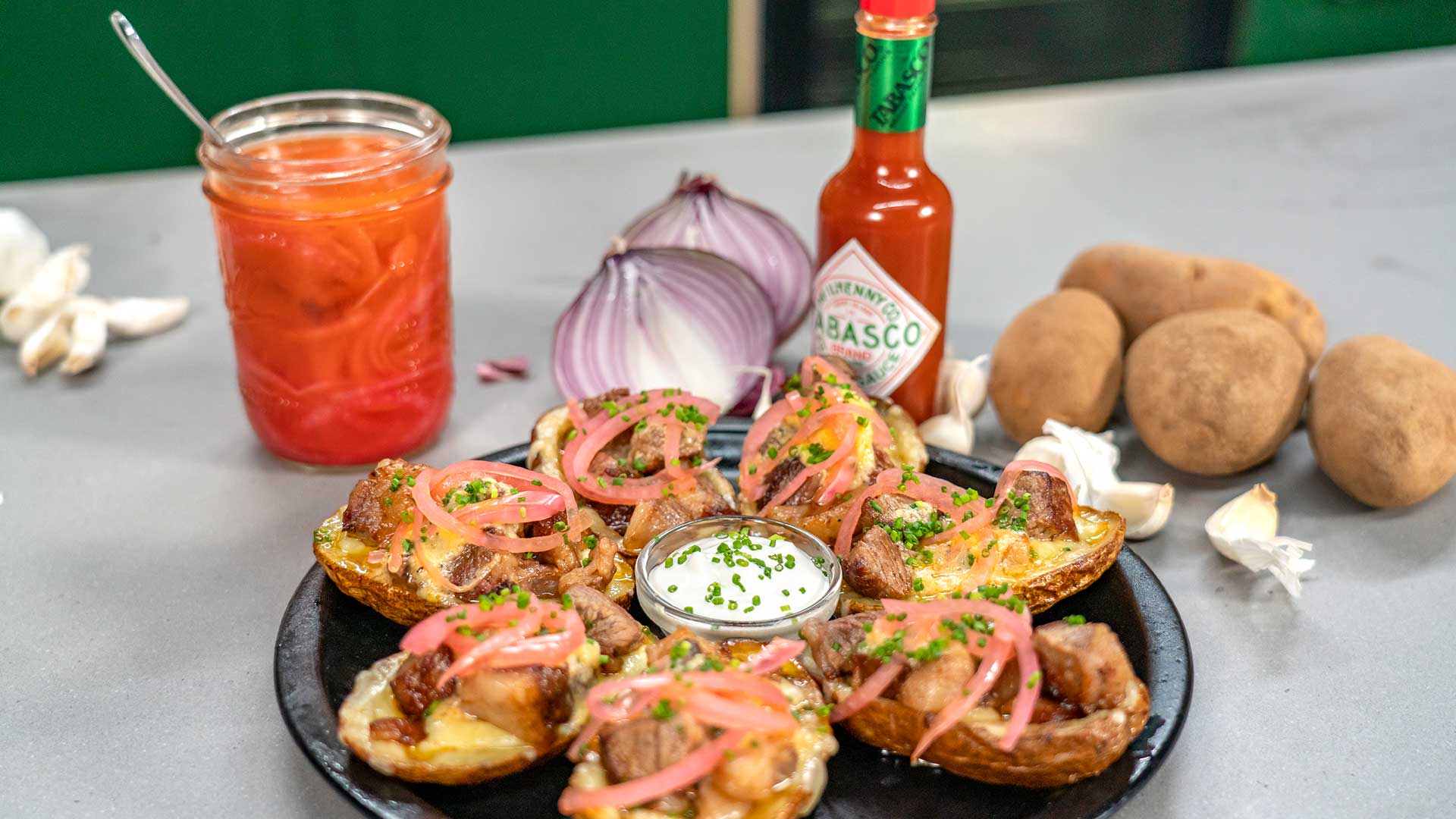 Ingredients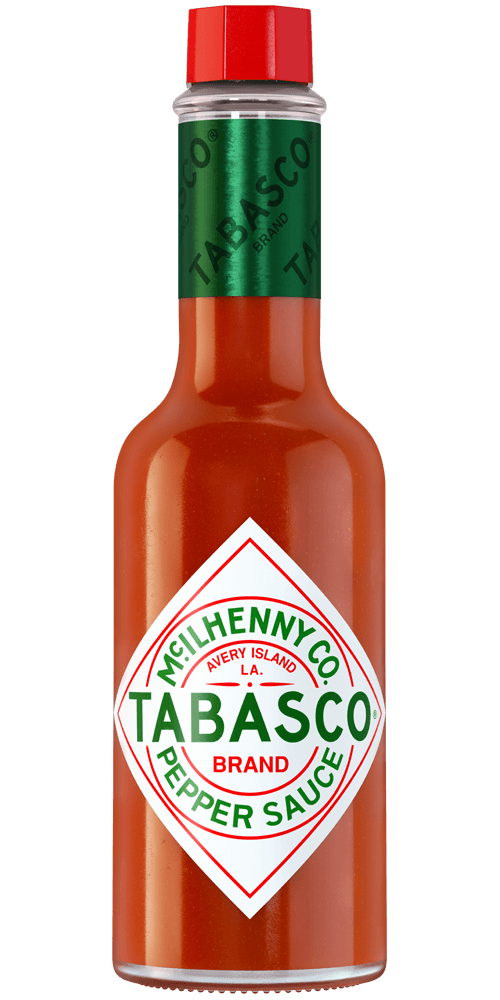 2 tablespoon
TABASCO® Original Red Sauce
1 red onion
½ cup water
½ cup white vinegar
1 ½ teaspoon sugar
½ teaspoon salt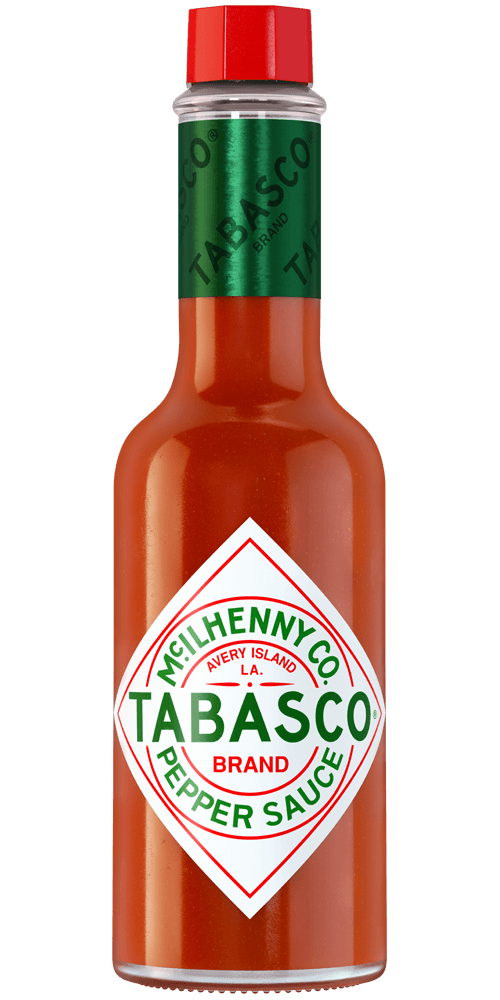 1 tablespoon
TABASCO® Original Red Sauce
1 head garlic
1 teaspoon vegetable oil
¼ teaspoon salt
4 ounces unsalted butter
¼ teaspoon black pepper
4 small russet potatoes
6 ounces grated sharp cheddar cheese
2 tablespoon vegetable oil
16 ounces rib eye steak
1 ½ teaspoon salt
Chives to garnish
Preparation
Roasted Garlic
Spicy Pickled Onions: Thinly slice the red onion and place them in a mason jar, or any container that can sit safely in the fridge. Heat water, vinegar, TABASCO® Original Red Sauce, sugar, and salt on high in a small sauce pot, and when the mixture starts to boil, pour it over the onions. Allow to sit for half an hour uncovered before putting in the fridge.
Roasted Garlic: While the onions are cooling, heat your oven to 40°F. Cut your head of garlic in half to expose the flesh of the cloves. Drizzle the exposed cloves with oil and sprinkle with salt. Stack the garlic halves on top of each other, then seal in foil, and roast for 45 minutes.
While the garlic is roasting, start making the potato skins. Wash and dry your potatoes thoroughly and use a fork to prick holes all around the potato. Microwave on high for 5 minutes, until fork tender, then allow to cool for 5 minutes before slicing in half lengthwise. Use a spoon to scoop out most of the potato pulp until you get a nice boat shape.
Set the potato halves on a large baking dish, then grate your cheese and evenly divide it among the potato skins. Bake at 400°F, alongside the garlic, for 15 minutes, until cheese is melty. Remove from the oven and reserve for final plating.
TABASCO® Sauce Compound Butter: Remove garlic from the oven and allow to cool for 5 minutes. Squeeze the sides of the head and the roasted garlic cloves should easily squeeze out. Finely mince with a knife, and, if any chunks remain, use the side of the blade to mash it into a fine paste. Add roasted garlic to a small bowl and whisk together with TABASCO® Original Red Sauce, butter, salt, and pepper. Reserve for later.
Cut your ribeye steak into ½ inch cubes and season with salt. Heat vegetable oil on high in a large, heavy-bottomed skillet (cast iron is best) for two minutes, until the oil starts smoking, then add your steak cubes, being careful not to overcrowd the pan. Allow to sear for 2 minutes before sauteeing with a wooden spoon for an additional 2 minutes, until browned and cooked to medium.
Divide the hot steak cubes among the potato skins, then top with a hefty spoonful of compound butter, some pickled onions, and some optional chives for garnish. Add some extra TABASCO® Original Red Sauce if you want to ;-).
You will need:
Original Red Sauce
Our most versatile sauce. Enliven the flavor of any meal.