Spicy Chipotle Fried Chicken and Cornbread Waffle Sliders
Author: Jocelyn Delk Adams, @grandbabycakes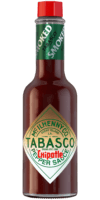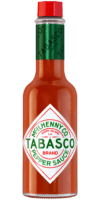 Chipotle Sauce, Original Red Sauce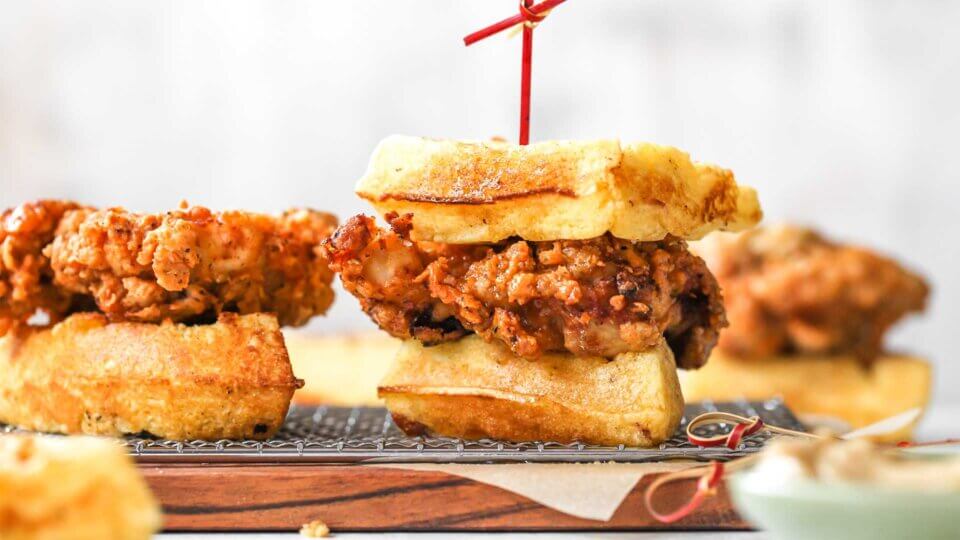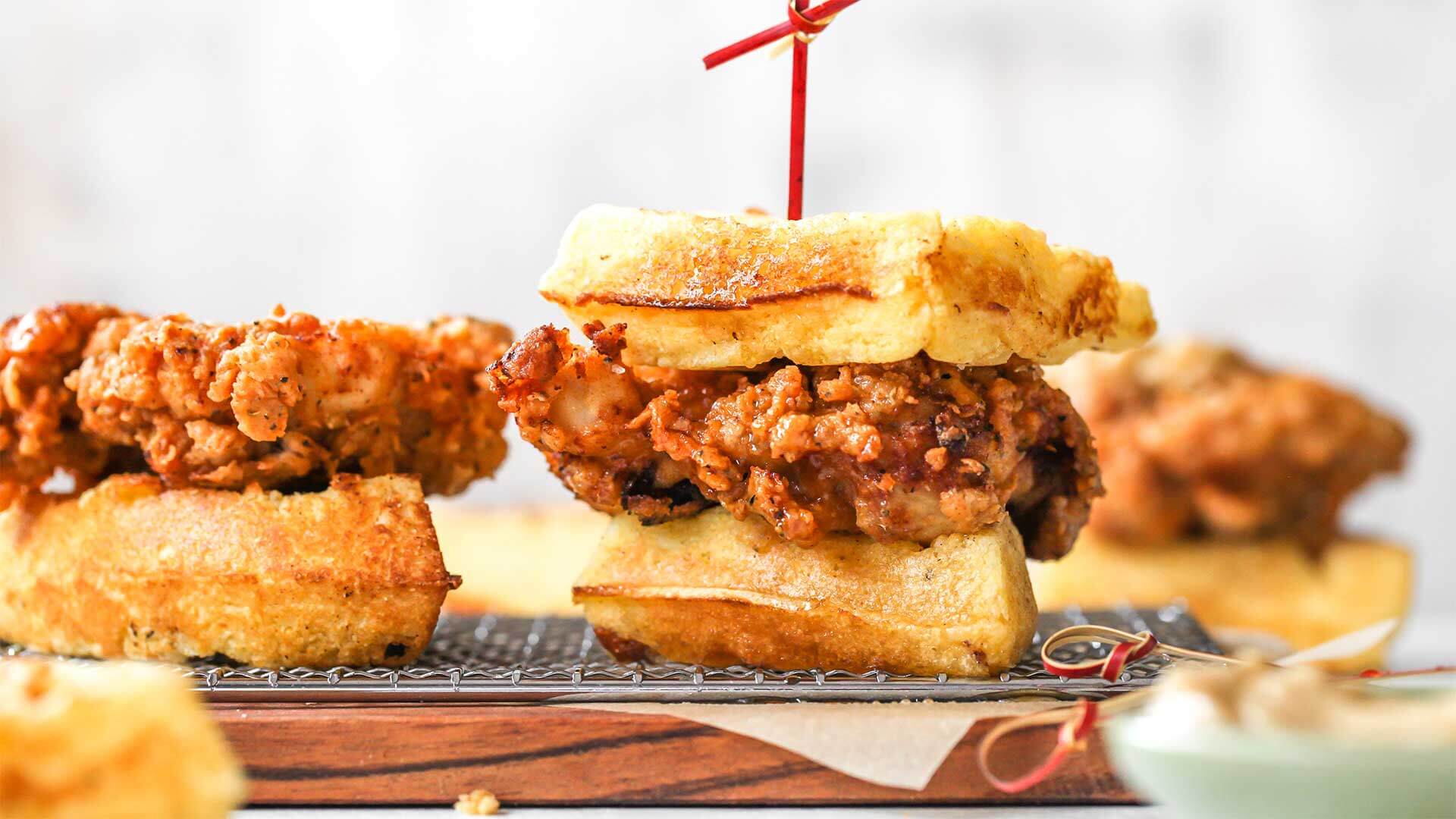 Preparation
For the Spicy Chipotle Fried Chicken Marinade
Add buttermilk, chipotle peppers, TABASCO® Original Red Sauce, Worcestershire sauce, salt and pepper to a heavy-duty blender or food processor and process until smooth.
Pour the marinade into a large bowl then add chicken making sure to completely submerge then cover and refrigerate for 5-6 hours.
To Fry Chicken
When ready to fry, add flour, cornstarch, salt, paprika, onion and garlic powder, Italian seasoning, black pepper and cayenne to a plastic bag and shake together until combined.
Next, drizzle buttermilk into the flour mixture and use a fork to mix it in to create crumbs.
Using tongs, remove one piece of chicken at a time and add to the flour bag. Coat thoroughly, shake off access then set on a parchment paper lined baking sheet. Repeat until all pieces are on the tray then add to the refrigerator for 20 minutes.
Add vegetable oil to a cast iron skillet or dutch oven about ¾ inch deep and heat to 350°F.
Remove chicken from the refrigerator and let it get back to room temperature for 10 minutes then add a few at a time to oil making sure you don't overcrowd the pan. Fry for 13-15 minutes turning chicken halfway. To make sure chicken is done, check for golden brown crunchy exterior and an internal temperature of 165°F.
Remove and drain on paper towels. Add chicken to a preheated oven to stay warm while you complete the rest of the components.
For the Waffles
To make the waffles, preheat a waffle iron. If you want to hold the finished waffles until serving time, preheat an oven to 200°F.
In a large bowl, whisk together all ingredients until just combined.
Grease the grids of your waffle iron then spoon in batter according to the manufacturer's instructions then bake until crisp and golden brown. Separate the waffles into four sections/quarters based on the waffle grid. Each waffle will make two complete sliders (2 waffle quarters).
Add completed waffles to a preheated oven just so they stay warm while you make the rest.
For the Maple Spiced Butter
Whisk together butter, brown sugar, maple syrup, TABASCO® Original Red Sauce and cayenne pepper until well mixed. Chill in the refrigerator, for about 30 minutes. Form into a roll using parchment paper and serve over chicken and waffle sliders.
To Build Sliders
Brush or spread Maple Spiced Butter over the top of chicken allowing it to melt down over it and glisten. Add Maple Spiced Butter to the bottom waffle as well allowing it to melt down.
Next sandwich the fried chicken between two waffle quarters. Serve with extra TABASCO® Original Red Sauce and Maple Syrup.
You will need:
Chipotle Sauce
A smoky, flavorful sauce. Pairs well with any BBQ dish.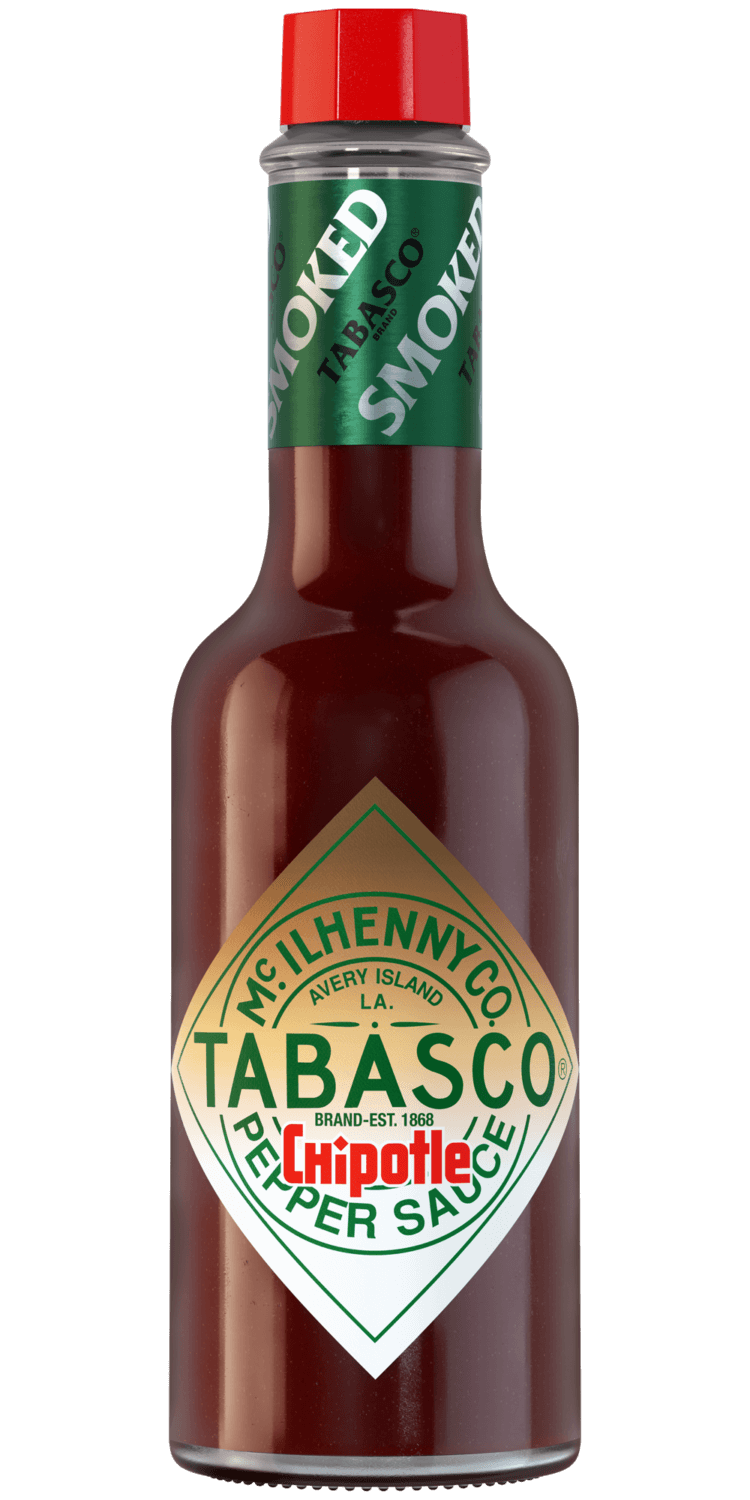 You will need:
Original Red Sauce
Our most versatile sauce. Enliven the flavor of any meal.