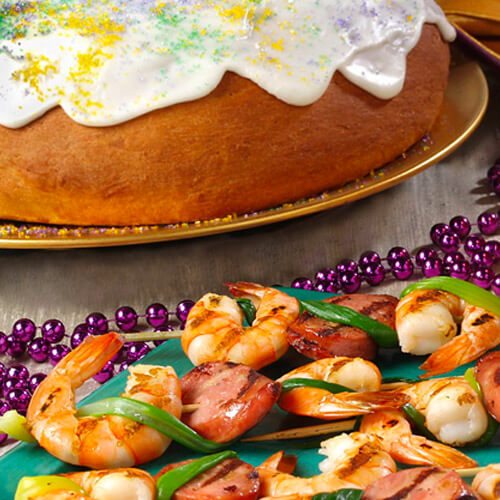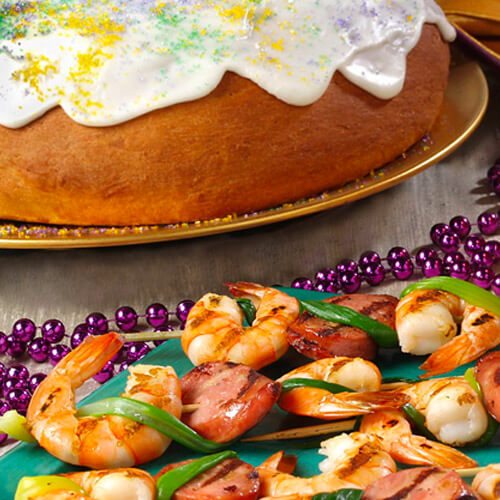 Ingredients
3 1/2 cups sifted cake flour
1 1/2 cups sugar
1 cup water
2/3 cup vegetable oil
1/3 cup nonfat dry milk
3 teaspoons baking powder
1 teaspoon vanilla
1/2 teaspoon salt
8 egg whites
Tiny china or plastic baby doll (optional)
1 cup sifted powdered sugar
1 tablespoon fresh lemon juice
1/2 teaspoon grated lemon rind
Dash of salt
2 to 3 tablespoons hot water
Purple and green sugar crystals
Gold dragées
Preparation
Preheat oven to 375°F. Grease and flour a 10-inch fancy tube pan. Sift flour before measuring and combine with sugar, water, oil, dry milk, baking powder, vanilla, and salt in a bowl. Mix until smooth.
Beat egg whites until stiff and fold into batter until evenly blended. Pour batter into prepared pan. Bake 40 to 50 minutes or until cake bounces back when gently touched in center. Press doll into cake, if using. Turn cake out of pan onto cake rack and cool thoroughly.
Meanwhile, combine lemon glaze ingredients in a small bowl and stir until smooth; drizzle over cooled cake. Decorate cake with colored sugar crystals and dragées.