Creamy Cajun Shrimp Pasta
Teri Fisher + Jenny Park, @spoonforkbacon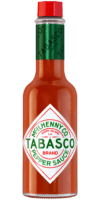 Original Red Sauce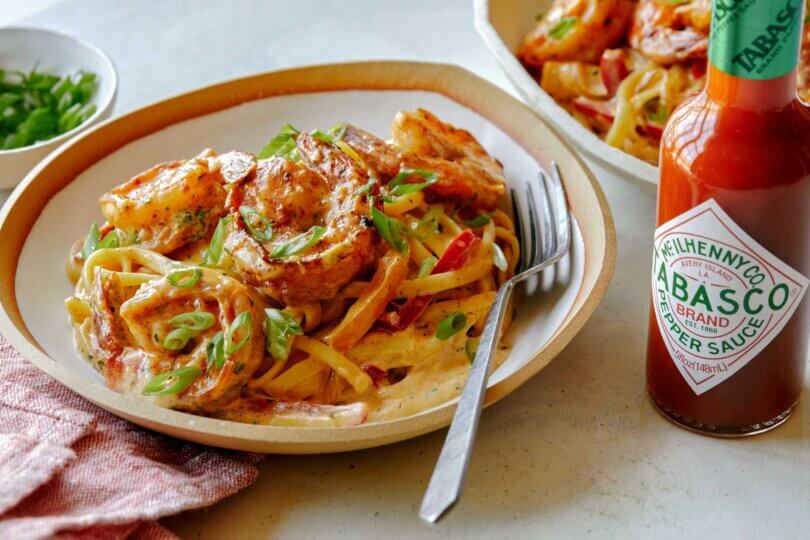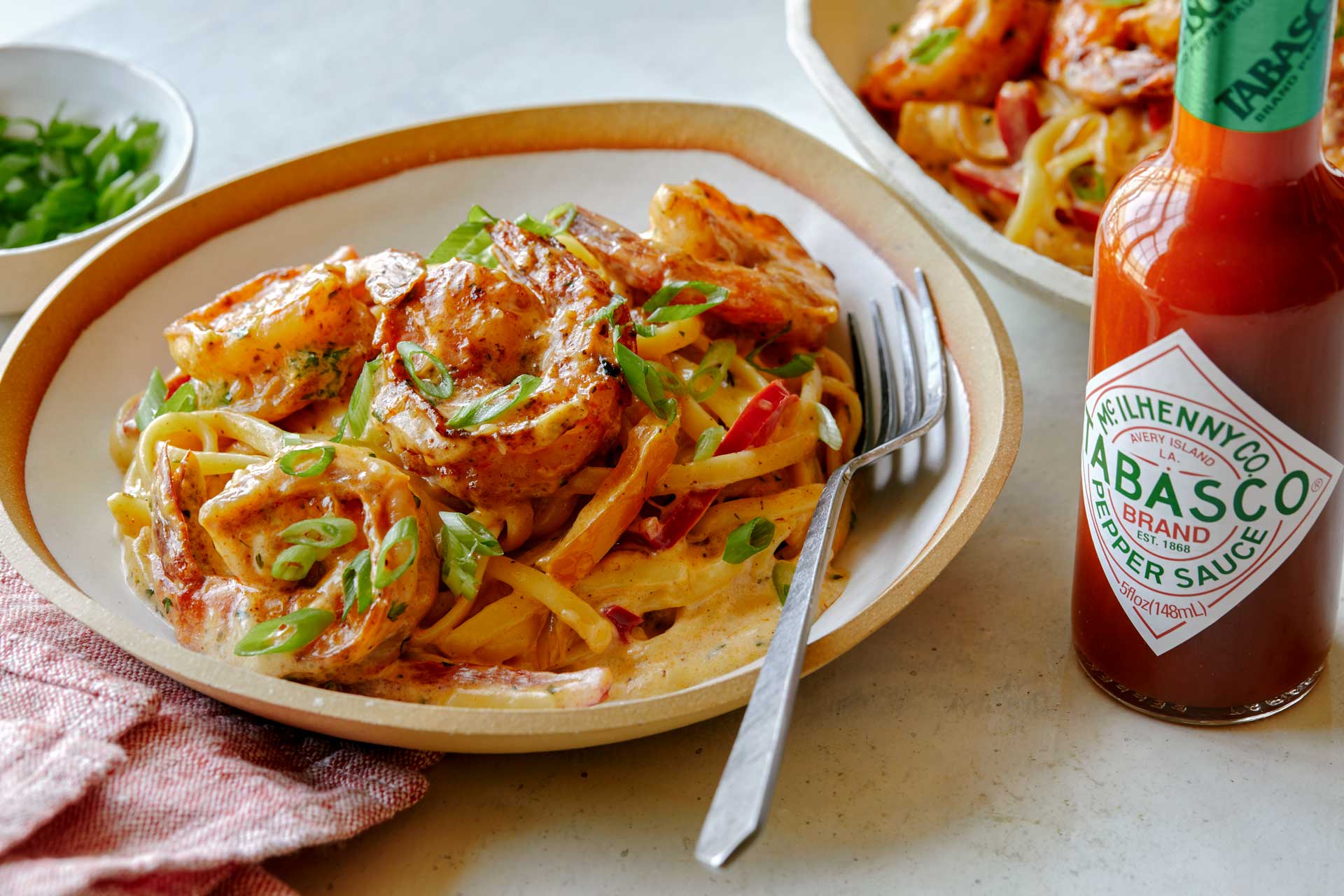 Ingredients
1 1/2 teaspoons smoked paprika
1 teaspoon salt
1 teaspoon garlic powder
1 teaspoon onion powder
1 teaspoon dried oregano
1/2 teaspoon cayenne pepper
1/2 teaspoon black pepper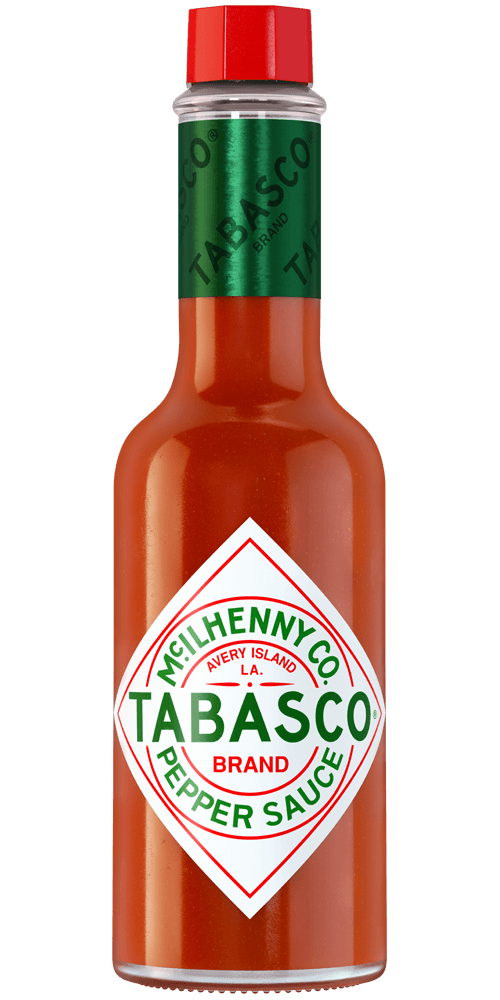 2 teaspoons
TABASCO® Original Red Sauce
16 extra-large shrimp, peeled and deveined
1 tablespoon vegetable oil
12 ounces linguine
5 1/2 tablespoons unsalted butter, divided
1/4 yellow onion, thinly sliced
1 red bell pepper, seeded and thinly sliced
1 yellow bell pepper, seeded and thinly sliced
2 cups heavy cream
2 ounces grated Parmesan cheese
1 tablespoon minced cilantro
2 green onions, thinly sliced
salt and pepper to taste
Preparation
Place all Cajun spice mix ingredients into a small mixing bowl and whisk together.
In another mixing bowl toss together shrimp, oil and half of the spice mix until shrimp is evenly coated. Allow mixture to sit for 15 minutes.
Fill a large pot with water, place over high heat and bring to a boil. Add a small handful of salt and add linguine.
Cook linguine, stirring occasionally until al dente, 7 to 9 minutes.
Drain pasta and set aside, reserving 1/2 cup of pasta water.
Place a large skillet over medium heat and melt 1 ½ tablespoon butter. Add half the shrimp and sear on each side for about 3 minutes or until shrimp just turns opaque and barely cooks through.
Transfer shrimp to a plate and set aside. Repeat with remaining shrimp.
Return skillet to stove and melt 2 tablespoons butter. Add onion and bell peppers and saute for 2 to 3 minutes.
Sprinkle vegetables with remaining spice mix and continue to saute for an additional 2 to 3 minutes.
Deglaze skillet with pasta water and simmer until water evaporates and vegetables have softened. Transfer vegetables to plate with shrimp.
Return skillet to stove and melt remaining butter. Add cream to skillet and simmer until cream has reduced by 1/3, about 4 minutes.
Add TABASCO® Original Red Sauce and grated Parmesan to cream and stir together until sauce thickens enough to coat a wooden spoon.
Add pasta to sauce and toss together.
Add shrimp, vegetables and cilantro to skillet and continue to toss together until everything is evenly coated in sauce. Season with salt and pepper and toss together.
Top pasta with sliced green onion and serve.
You will need:
Original Red Sauce
Our most versatile sauce. Enliven the flavor of any meal.